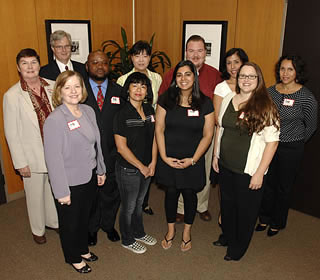 From left, at Master Teaching Fellows reception --
Front row: Grisel Acosta, Shereen Bhalla and Lydia Overbaugh
Middle row: Margaret Constantino, Emeka Ovuegbe, Lijie Zhang,
Charles Andrew Speer, Candace Pennick and Marilyn Wooten
Back row: Barbara Millis (Teaching and Learning Center director)
and Provost John Frederick (Photo by Mark McClendon)
Teaching assistants named Master Teaching Fellows
(Oct. 13, 2008)--The UTSA Office of the Provost honored nine Master Teaching Fellows at a Sept. 16 breakfast reception. The fellows are teaching assistants nominated by their department chairs and chosen by a search committee.
---
Today's headlines
Article tools
---
The Master Teaching Fellows are Grisel Acosta, English; Shereen Bhalla, Culture, Literacy and Language/BBL; Margaret Constantino, Counseling, Educational Psychology and Adult Higher Education; Lydia Overbaugh, Anthropology; Emeka Ovuegbe, Environmental Science and Engineering; Candace Kelly Pennick, English; Charles Andrew Speer, Anthropology; Marilyn Wooten, Chemistry and Lijie Zhang, Computer Science.
"This Master Teaching Fellows program emphasizes that although UTSA aspires to be a tier-one research institution, we cannot neglect our responsibilities toward teaching," said Frederick. "These fellows will support that crucial mission."
The Master Teaching Fellows search committee includes Daniel Gelo, dean of the College of Liberal and Fine Arts, who suggested the program to Provost John Frederick; Barbara Millis, director of the newly renamed Teaching and Learning Center (formerly the TEAM Center); Dorothy Flannagan, dean of the Graduate School; David Johnson, vice provost for academic and faculty support; and Deborah Moore, anthropology graduate student.
The fellows meet weekly with Millis to learn teaching skills and to discuss topics of importance to the university such as the upcoming UTSA re-accreditation. They have the dual responsibilities of personal professional development and service to their departments and the university. Both responsibilities will culminate in a capstone project.
The fellows and their families also were feted at an Oct. 3 gathering at the home of Barbara Millis, where they met internationally recognized expert in teaching and learning, Linda Nilson of Clemson University. Nilson provided five workshops Oct. 2-3 for UTSA faculty and teaching assistants. She is the author of the textbook, "Teaching at Its Best," which is used in the MTF program.
For more information on the Master Teaching Fellows program or to request TA classroom observations, a focus group or a Quick Course Diagnosis, contact Barbara Millis, Teaching and Learning Center, at (210) 458-7374.