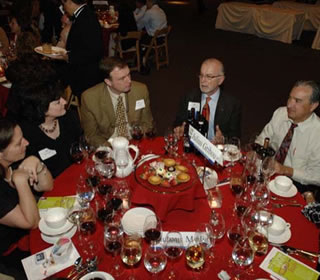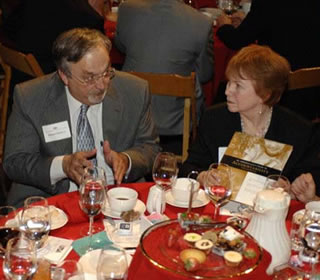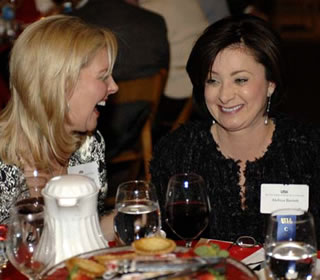 "Great Conversation! 2008"
(Photos by Mark McClendon)
UTSA Honors College presents 'Great Conversation!'
By Omar Hernandez
Public Affairs Specialist
(Feb. 6, 2009)--The UTSA Honors College will host the ninth annual "Great Conversation!" at 6:30 p.m., Tuesday, Feb. 24 at UTSA's Institute of Texan Cultures, 801 S. Bowie St.
The signature fundraising event supports Honors College scholarships, featuring more than 60 tables with various discussion topics related to science, politics, leisure, education, business and the arts.
---
Today's headlines
Article tools
---
Table conversation leaders this year will include Texas Monthly editor-in-chief Evan Smith speaking on the political landscape in Texas and beyond; Tanji Patton, local TV personality and executive producer/host of "Good Taste with Tanji," leading discussion on good wine, food and fun; and Harriett Romo, UTSA professor of sociology and director of the Mexico Center, leading discussion on "What makes a great teacher?"
The evening is much like a dinner party with conversation as the focus. Tables seat 10 with a different conversation topic assigned in advance to each table. The conversation is led by a UTSA faculty member or San Antonio community leader with expertise on a topic. Attendees enjoy a buffet supper, and the topical conversation begins over coffee and dessert.
Wine and dinner will begin at 6:30 p.m., followed by dessert and coffee. Individual tickets are $85 or $55 for recent UTSA alumni (2004-2008). Sponsorship for an honor student's attendance is $40.
For more information on table topics, tickets and reservations, call (210) 458-4128 or visit the Great Conversation! Web site.