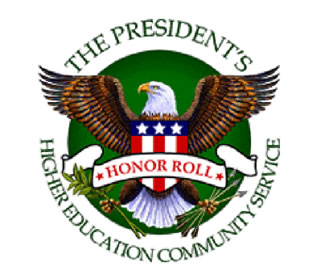 UTSA named to president's higher ed honor roll
(Feb. 16, 2009)--The Corporation for National and Community Service recently honored The University of Texas at San Antonio with a place on the President's Higher Education Community Service Honor Roll for exemplary service efforts and service to America's communities.
---
Today's headlines
Article tools
---
Launched in 2006, the community service honor roll is the highest federal recognition a school can achieve for its commitment to service-learning and civic engagement. Honorees for the award were chosen based on the scope and innovation of service projects, percentage of student participation in service activities, incentives for service and the extent to which the school offers academic service-learning courses.
Several of the numerous UTSA volunteer programs were highlighted in the application. The UTSA United to Serve Day in April 2008 sent more than 250 students, faculty and staff to work on 12 projects ranging from a graffiti wipeout to a hospice project to the Cibolo Creek Cleanup. UTSA's application detailed projects such as the 2008 Alternative Spring Break program, where students spent five days working with the Casa de Nazareth Orphanage in Piedras Negras, Mexico. Also highlighted was the Catholic Student Organization's clothing and school supplies drives for tornado relief in the border region of Eagle Pass and Piedras Negras.
"In this time of economic distress, we need volunteers more than ever," said Stephen Goldsmith, vice chair of the board of the Corporation for National and Community Service, which oversees the honor roll. "College students represent an enormous pool of idealism and energy to help tackle some of our toughest challenges. We salute UTSA for making community service a campus priority, and thank the millions of college students who are helping to renew America through service to others."
The corporation honored six schools with presidential awards. Eighty-three were named as Honor Roll with Distinction members with 546 schools as Honor Roll members. In total, 635 schools were recognized. View the full list at the National Service Web site.
The honor roll is a program of the Corporation for National and Community Service (CNCS) in collaboration with the Department of Education, the Department of Housing and Urban Development and the President's Council on Service and Civic Participation.
Recent studies have underlined the importance of service-learning and volunteering to college students. In 2006, 2.8 million college students gave more than 297 million hours of volunteer service, according to the corporation's Volunteering in America 2007 study. Expanding campus incentives for service is part of a larger initiative to spur higher levels of volunteering by America's college students. CNCS works with a coalition of federal agencies, higher education and student associations, and nonprofit organizations to achieve this goal.
For more information, visit the National Service Web site or contact Belinda Saldana, UTSA director of community outreach, at (210) 458-2904.