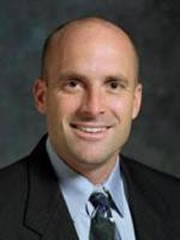 UTSA's Brent Nowak and U.S. Navy underwater robots
Faculty Spotlight: Underwater robotics research by UTSA's Brent Nowak makes splash with U.S. Navy
By Christi Fish
Public Affairs Specialist
(June 3, 2009)--Brent Nowak, UTSA associate professor of mechanical engineering, is headed to the water this summer, but he won't be taking much time off to relax. He was selected by the U.S. Navy to conduct research at its Newport-based Naval Undersea Warfare Center, a prestigious fellowship for engineering academics.
---
Today's headlines
Article tools
---
At the summer program, formally called the Office of Naval Research Summer Faculty Research Program, Nowak will conduct research on hardware systems for advanced underwater vehicles, controls and intelligent collaborative solutions.
"I've always had a passion for robotics, and it's a great privilege to collaborate with the U.S. Navy on the improvement of underwater vehicles," said Nowak. "I imagine I'll be like a kid in a candy store once I get there."
Nowak has more than 25 years of professional and academic experience in mechanical engineering. Congruent with his UTSA academic duties, he is a member of the university's Center for Advanced Manufacturing and Lean Systems, which teaches companies to be more efficient manufacturers by adopting lean manufacturing principles and robotic technologies.
Before coming to UTSA, Nowak was an investigator at the San Antonio-based Southwest Research Institute (SwRI), where he managed several large, multi-year manufacturing projects in automation and robotics. He also was a co-investigator on the SwRI Depth-X project to develop a submersible vehicle to detect life, capture samples and return them to the surface. The SwRI team's contributions on that project included the robot's arm definition, design and integration.
His expertise, however, is not limited to water- or land-based robotics. Nowak's professional career also includes significant time with Rockwell Space Operations, where he, among other responsibilities, offered real-time space shuttle flight console support at the NASA Johnson Space Center's Mission Control Center for 13 flights.
Established in 1992, the Naval Undersea Warfare Center is the Navy's full-spectrum research, development, test and evaluation, engineering and fleet support center for submarines, autonomous underwater systems, and offensive and defensive weapons systems associated with undersea warfare.
Learn more about the study of robotics and mechanical engineering at the UTSA College of Engineering Web site.