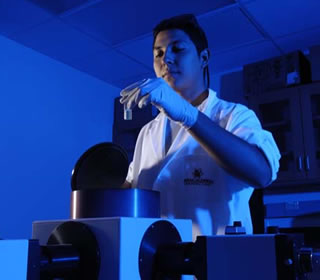 UTSA students Jorge Palos-Chavez (top) and Obehi Etinfoh
(Photos by Mark McClendon)
UTSA College of Sciences research boot camp helps students sharpen skills
By Christi Fish
Public Affairs Specialist
(Aug. 6, 2009)--Jorge Palos-Chávez is eager to become a physicist. Obehi Etinfoh dreams of becoming a pharmacologist. And, although they've completed only one year at UTSA, the undergraduates already have their sights set on earning Ph.D.s. To help them become better researchers, Palos-Chávez and Etinfoh have gone to boot camp -- the UTSA MBRS-RISE Summer Research Boot Camp, that is.
The MBRS-RISE (Minority Biomedical Research Support-Research Initiative for Scientific Enhancement) Summer Research Boot Camp is a federally funded program offered by the College of Sciences Center for Research and Training in the Sciences (CRTS). The 12-week program, like its parent program MBRS-RISE, encourages underrepresented minorities and students from low-income families to pursue research careers in the biomedical sciences.
The camp culminates two semesters of progressive training that most students begin during their freshman year through the competitive MBRS-RISE program. So, think you want to become a researcher? Slackers, beware. The research boot camp is tough.
Those who are accepted into the boot camp must take four consecutive weeks of intensive science instruction, including one week each of chemistry, genetics, physics and neuroscience. Simultaneously, participants learn about scientific writing, leadership, research ethics, keeping a laboratory notebook, professional vocabulary, poster development and presentation, and CV development.
Those who pass the first four weeks of instruction are invited to choose full-time, eight-week appointments in the science lab of their choice. By the end of the eight-week research period, the students must produce research abstracts and posters for presentation at various conferences. They also are required to submit their abstracts to a national conference.
Palos-Chávez chose to research in the lab of Lorenzo Brancaleon, UTSA assistant professor of physics, where he could apply his knowledge of physics, biology and chemistry to photovoltaic systems.
"We've worked with molecules and analyzed them to see if the photovoltaic systems have applications for organic solar technology," said Palos-Chávez. "I'm always interested in how things work. The boot camp has been a great hands-on experience."
Etinfoh, a chemistry major, saw the inside of two labs during her freshman year, having worked a semester each with Cong-Gui Zhao, associate professor of chemistry, and G. Jilani Chaudry, assistant professor of cellular and molecular biology. This summer, she joined the chemistry lab of George Negrete, associate dean of the College of Sciences and professor of chemistry, under whose supervision she is researching the stability of novel liposomes in acidic environments to determine whether they are suitable agents for drug delivery.
"Nothing is easy when it comes to science," Etinfoh noted. "But, at UTSA we have good professors who are patient with us. Through the MBRS program, I've been able to network with different professors in the lab, and I've had the opportunity to work with lots of different people. Sometimes, you can get sidetracked in research or in your career goals. But, by meeting people who have already done what you want to do, it motivates you."
------------------------------
Participants in the summer research boot camp will present their work from 10 a.m. to 11:30 a.m., Thursday, Aug. 6 in the University Center Denman Room (2.01.28) on the UTSA Main Campus, along with students from the Provost's Summer Research Program and the UTSA TREE (Teaching and Research in Environmental Ecology) program. Participants in the research boot camp also will present their findings at the 2009 College of Sciences Research Conference from 8 a.m. to 5 p.m. in the University Center.