Campus Perks: On-campus childcare available to students, faculty and staff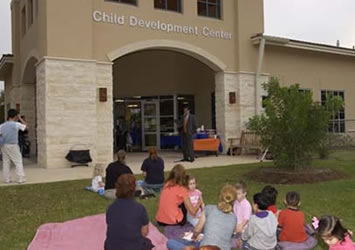 Share this Story
(Oct. 29, 2009)--UTSA has its own childcare facility for use by UTSA students, faculty and staff. Licensed by the Texas Department of Family and Protective Services and accredited by the National Association for the Education of Young Children, the facility also is a Texas Rising Star Child Care Delivery Service provider.
Open since January 2003, the UTSA Child Development Center (CDC) is between parking lots 10 and 11 on the southwest side of the Main Campus, adjacent to the University Oaks Apartments. The CDC is licensed to care for up to 106 children ranging in age from six weeks to five years.
UTSA students who have children may be eligible for financial aid to help cover the costs of childcare. Additionally, a scholarship program is available to help pay for childcare expenses and is awarded based on a number of factors including the applicant's financial need, academic performance and space availability.
"Eighty percent of the slots are dedicated to students with the remaining 20 percent set aside for faculty and staff," said Norma Castillo, CDC administrative assistant.
Tuition rates and available slots for the CDC vary depending upon the child's age, family income, and student or faculty status. A variety of payment plans are available for parent convenience and include monthly, bimonthly and lump-sum arrangements. Parents should apply as soon as they anticipate needing to utilize the facility, since they may be placed on a waiting list.
According to Castillo, undergraduate students must be enrolled in at least 12 hours and graduate students must be enrolled in at least nine hours to be eligible for placement on the waiting list.
The CDC is open 7:30 a.m.-5:30 p.m., Monday-Friday, and closed weekends and holidays.
For more information, call (210) 458-6364 or visit the UTSA Child Development Center Web site.
For financial aid information call (210) 458-8000 or visit the UTSA Financial Aid Web site.