International students develop English speaking skills with UTSA program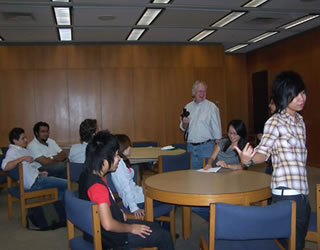 Share this Story
(Nov. 18, 2009)--Since 1991, UTSA's Intensive English Program (IEP) has helped students from abroad wanting to improve their English speaking skills. The program in the Department of Bicultural-Bilingual Studies in the College of Education and Human Development started with 13 students and has grown to more than 60 students representing nearly a dozen countries including Turkey, Japan, Korea, Iraq, Mexico, Peru, Chile and Saudi Arabia.
Conducted in 10-week sessions in the summer or 14-week sessions in the fall or spring, IEP requires students to attend 21-30 hours per week depending on the session.
Jim Kelim, UTSA director of English as a Second Language Services, travels overseas regularly to promote the program at large recruiting fairs that bring in approximately 30,000 students.
"Basically, the tuition, funded by governments or families, costs about $24,000 annually, and the students receive a monthly stipend ranging from $1,200 to $2,000," said Kelim.
Costs associated cover program costs and textbooks, personal expenses, housing on or near campus, meal plans, medical insurance and university fees.
According to Kelim, one advantage of having international students come to UTSA is that it helps break cultural stereotypes and exposes American students to different cultures.
One student, Hakeem from Jedda City, Saudi Arabia, enrolled in the 10-week program to improve his English as he pursues a master's degree in architecture in his home country.
"I was surprised to learn that I shared many of the same things as students I met from the Far East and Africa," said Hakeem. "We would have respectful discussions about the English program and religions as everyone expressed their opinions."
For Maria Elena from Mexico City, the English program offered many challenges including speaking before the entire class and debating an issue in a language with which she was unfamiliar.
"We debated many different topics including whether middle schools should have recess or whether marriages are better when spouses choose each other or when they are selected by other family members, as is common in other cultures," said Maria Elena.
The course was so enjoyable, she plans to pursue a business counseling degree to further the commerce studies she pursued when attending classes in Mexico City.
After the course was complete, there was a farewell luncheon with foods representing the various ethnic groups of the students. The students received certificates acknowledging course completion and gathered each other's contact information so they could build on the friendships that began at UTSA, even though they will be in their home countries.