UTSA students conduct presentation on peer health education at national conference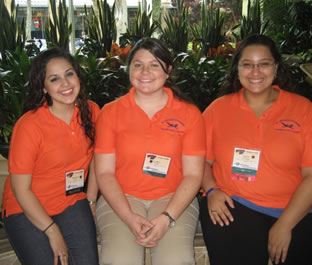 Share this Story
(Dec. 7, 2009)--UTSA students representing the student organization Be A Responsible Roadrunner (BARR) attended the BACCHUS Network General Assembly "Superheroes for Health and Safety" in Orlando, Florida Nov. 3-7.
The BACCHUS conference provides students and professionals the opportunity to gain new ideas and strategies for their programming and awareness events. This year, more than 630 students and advisers represented more than 120 campuses across the nation.
Three students attended a 12-hour pre-conference course for health and safety peer educators. The Certified Peer Educator training covers nine modules with an overview of The BACCHUS Network, strategies for change in high-risk behaviors, listening skills, responding and referral skills, intervention skills, developing inclusive peer education, programming and presentation skills, taking care of yourself and group development.
"I learned many new skills in the Certified Peer Educator training that will help me in becoming a better peer educator and, as a result, a better BARR consultant," said Yaleen Christensen, BARR consultant and sophomore undeclared major.
BARR consultants Lyndsey Luther, Elizabeth Araujo and Christensen passed the certification course. The BARR consultants attended breakout sessions and heard from several keynote speakers throughout the regular schedule of the general assembly. They also participated in the BACCHUS Leadership Passport program, which guided the students through their conference experience. Christensen won a complimentary registration for BARR through the passport drawing.
BARR consultants also were one of 175 affiliates who submitted a proposal for the general assembly program. The organization's proposal, "Thirsty Thursday: A Unique Way to Educate on Campus," was selected as a conference session. This gave the students an opportunity to share their successful monthly program with other peer educators. The session received excellent reviews by participants and the consultants enjoyed their first national conference presentation.
"I loved presenting at general assembly this year," said Luther, a sophomore accounting major. "I felt that we really got through to our audience and I learned how to work as a group and how to be more organized and prepared. I look forward to BARR presenting again next year."
While attending the conference, BARR also created a school exhibit to showcase the organization and its programs. During the awards banquet on Saturday night, BARR received the second-place award for their creative exhibit, along with $100.
Through this non-stop conference, the students came home with new knowledge to enhance the organization's programming for the upcoming semester as well as developing personal skills.
"I have come away from general assembly with more confidence," said Araujo, sophomore biology major. "I realized I can communicate with others and, as a team, we have many great ideas for programming."
Last year at the BACCHUS general assembly, UTSA BARR President Mayllyn Luz was elected Area 6 Student Advisory Committee representative. She attended several leadership trainings offered by The BACCHUS Network this year and assisted in planning the annual area conference. Throughout this year's general assembly, she assisted in educating peer educators about the SAC position and led the Area 6 meeting and SAC elections.
"During my term as Area 6 SAC, I was able to grasp a better understanding of peer health education on a completely different level," said Luz, a senior communications major. "I had the opportunity to reach numerous affiliates across our area elaborating on what was happening within the BACCHUS Network."
Kelsey Bratcher, UTSA assistant director of risk education and alcohol and drug programs and BARR adviser, attended the conference with the students. She serves as the Texas state coordinator for The BACCHUS Network.
BARR is a student organization dedicated to purposeful, diverse and educational programming on alcohol and drugs. The organization supports the rights of all students to make their own choices regarding behaviors that affect their health. The group encourages students to educate themselves about those issues and to consider a wide range of healthier behaviors that reduce or eliminate the risk of negative outcomes.
To learn more about BARR or to become a consultant, visit the UTSA BARR Web site, e-mail barr@utsa.edu or call 210-458-4160.