UTSA announces first football signing class of 24 student-athletes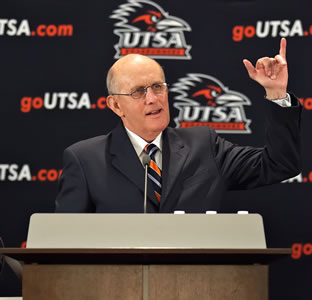 Share this Story
(Feb. 3, 2010)--UTSA head football coach Larry Coker announced Wednesday his first-ever signing class, which consists of 24 prep student-athletes who signed National Letters of Intent and two sophomore transfers who already are enrolled at UTSA this semester.
>> Read more at the UTSA Athletics Web site, including the signing class list and bios.
The class is highlighted by seven all-state performers in sophomore transfer OL Brady Brown (San Antonio, Texas/O'Connor HS/Texas A&M-Kingsville), OL Robert Chapman (San Antonio, Texas/Clark HS), DL Chris Dorsey (Altair, Texas/Rice HS), QB Cole Hubble (Bandera, Texas/Bandera HS), OL Scott Inskeep (McAllen, Texas/McAllen HS), OL Nate Leonard (McKinney, Texas/McKinney HS) and LB Cody Rogers (San Antonio, Texas/Brandeis HS). Additionally, all 26 members of the class earned all-district accolades, including 11 who were selected to all-area teams during their careers, and six that are academic all-state honorees.
"We're really excited about the quality of this class," Coker said. "This is a very talented and well-rounded group that has bought into the vision of UTSA Football. They want to be the ones to help start this program and we're excited to have them on board."
The class also has a local flavor with 13 student-athletes from Greater San Antonio Area high schools: DB Crosby Adams (Roosevelt HS), RB Brandon Armstrong (Roosevelt HS), sophomore transfer OL Brady Brown (O'Connor HS/Texas A&M-Kingsville), OL Robert Chapman (Clark HS), RB David Glasco (Wagner HS), OL Cody Harris (Smithson Valley HS), WR Earon Holmes (Brackenridge HS), QB Cole Hubble (Bandera HS), RB Chris Johnson (East Central HS), sophomore transfer WR Sean Luchnick (O'Connor HS/Penn State), OL Drew Phillips (Steele HS), LB Cody Rogers (Brandeis HS) and WR Jake Wanamaker (Central Catholic HS).
"I've said this many times before, but I think San Antonio is really under recruited," Coker said. "There are some very good high school players in this area that sometimes are overlooked. We wanted to recruit San Antonio very heavily to help us build a good base of local players and then work our way out to the different areas of the state. I really think the quality of the players and coaches in this city and the state of Texas is outstanding."
Other members of the inaugural class include ATH Corey Brite (Giddings, Texas/Giddings HS), DL Richard Burge (Houston, Texas/Stratford HS), WR Nick Garza (McAllen, Texas/McAllen HS), DB Nic Johnston (Coppell, Texas/Coppell HS), QB Kam Jones (Edna, Texas/Edna HS), WR Marcellus Mack (Giddings, Texas/Giddings HS), DL Ferrington Macon (Corpus Christi, Texas/Carroll HS), TE Jade Pender (Castle Rock, Colo./Castle View HS), DB Darrien Starling (Tyler, Texas/John Tyler HS) and LB John Walker (Humble, Texas/Humble HS).
"As coaches, it has been a pleasure to recruit this class because we have met some outstanding young men and wonderful families during the process," Coker said. "The reception from the high school coaches we met was unbelievable. They were outstanding and very helpful, so we can't thank them enough."
UTSA will hold its first official practices this fall and begin play as a Football Championship Subdivision Independent (FCS/formerly Division I-AA) in 2011. The program plans to begin a reclassification period to become a Football Bowl Subdivision (FBS/formerly Division I-A) Independent in 2013.