World Cultural Council seeks nominations for international awards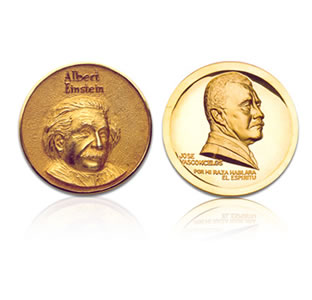 Share this Story
(Feb. 5, 2010)--The World Cultural Council (Consejo Cultural Mundial), headquartered in Mexico City, is accepting nominations for the 2010 Albert Einstein World Award of Science and the Jose Vasconcelos World Award of Education. The deadline for nominations is Feb. 25. The awards will be presented Nov. 16 at the Universite de Liege in Belgium.
Award nominations must be endorsed through directors of institutes and organizations and university presidents or chancellors, among other leaders.
>> Read the nomination criteria at the award nominations Web site.
"One of the council's aims is to contribute by giving visibility to those often unknown figures working incessantly for the benefit of mankind, who could serve as excellent examples to students and the coming generations," said Lillyan Hernandez, World Cultural Council secretary general.
The World Cultural Council establishes relations among the most important scientific, cultural, educational and social institutions throughout the world. The council collects data and research aimed at improving the social, cultural, moral and spiritual advancement of humankind.
The Albert Einstein World Award for Science was created as a means of recognition and incentive for scientific and technological research and development. It takes into special consideration research that has brought benefit and wellbeing to mankind. The recipient is selected by the Interdisciplinary Committee, which includes world-renowned scientists, among them 25 Nobel laureates. The award consists of a diploma, a commemorative medal and $10,000.
The work of Albert Einstein is the most representative example of the search for understanding of the fundamental scientific laws of nature. Einstein was born in Ulm, Germany, in 1879. In 1916, he published "The General Theory of Relativity," which advanced scientific work in the area of theoretical physics. Among his important contributions are "The Inertia Principle of Energy" and "The Quantum Law in the Emission and Absorption of Light." In 1921, he was awarded the Nobel Prize in Physics for his photoelectric law.
The Jose Vasconcelos World Award for Education acknowledges educators who are authorities in the field of teaching or legislators of education policies who have had a significant influence on the advancement in the scope of culture for mankind. The jury includes members of the Interdisciplinary Committee and a group of distinguished educators. The award grants a diploma, a commemorative medal and $10,000.
Vasconcelos was a Mexican educator, essayist and philosopher. He served as rector of the University of Mexico, after which he was appointed minister of public education (1920-1924). During that time, he initiated major reforms in the Mexican school system, particularly expanding the rural school program.
------------------------------
The objectives of the World Cultural Council are:
To establish relations with the most important scientific, cultural, educational and social institutions throughout the world
To collect data and useful research aimed at improving the social, cultural, moral and spiritual advancement of humankind.
To reward that scientific research which brings progress to humankind.
To integrate scientists, educators and researchers at the highest level in order to maintain constant and enriching communication.
To recognize educational contributions that have had a significant influence on the advancement of the scope of culture
To promote art in all its expressions and to reward artists whose work is deserving of world recognition
To increase the efficient and positive use of knowledge and to promote fraternity among people, nations and governments, looking for understanding based on respect for the ideology, opinions, religion, race and gender of each person