UTSA exhibit features work of renowned serigraphy artist Malaquias Montoya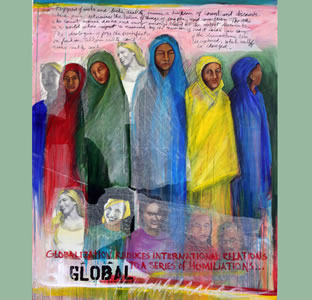 Share this Story
(March 23, 2010)--The UTSA Department of Art and Art History will present the exhibit "Globalization and War: The Aftermath" with works by Malaquias Montoya from March 24 to April 18 in the Arts Building Gallery on the Main Campus. Free and open to the public, the exhibit includes seven paintings on canvas and 16 works on paper that portray the consequences of power and war.
>> An opening reception is 6-8 p.m., Wednesday, March 24. Free parking for the reception will be available in lot 8, south of the Arts Building off UTSA Boulevard. Additionally, a gallery talk and book signing will be at 6:30 p.m. with a performance of the UTSA Faculty Chamber Ensemble at 7 p.m.
The works by Malaquias Montoya create a dialogue between viewer and painter, conveying the universal story of the consequences of power and war, which include people of all cultures. The exhibition presents a mirror for viewers to see themselves in portraits that focus on the destruction of people's existence resulting in the uprooting of their lives, displacement and the loss of culture caused by corporate globalization and the tragedies of war. In each image, we see the human spirit at its most vulnerable point in the shadows between obliteration, devastation and survival.
Montoya is a leading figure in the West Coast political Chicano graphic arts movement, a political and socially conscious movement that expresses itself primarily through the mass production of silk-screened posters. His work includes acrylic paintings, murals, washes and drawings, but he is known primarily for silkscreen prints that have been exhibited nationally and internationally.
Montoya is credited by historians as being a founder of the social serigraphy movement in the San Francisco Bay Area in the mid-1960s. His visual expressions, art of protest, depict the struggle and strength of humanity and the necessity to unite behind that struggle.
Gallery hours are 10 a.m.-4 p.m., Monday-Friday; 1-4 p.m., Sunday and by appointment. The gallery will be closed Easter, April 4.
For more information, contact: Laura Crist at 210-458-4391.
------------------------------
Directions to the gallery
From Interstate 10, take exit 557 to UTSA Boulevard and go west toward the Costco store. At the second traffic light, turn right onto James Bauerle Boulevard. Turn left onto O'Neil Ford Avenue and then make an immediate right into parking lot 8. The Arts Building is on the right at the top of the walkway to the center of the UTSA Main Campus.