Institute of Texan Cultures hosts 'Small Town Texas' photo exhibit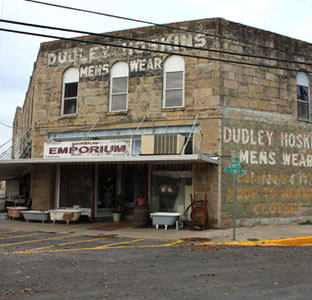 Share this Story
(March 22, 2010)--The Institute of Texan Cultures will present "Small Town Texas," an exhibit of photographs by UTSA President Ricardo Romo from March 25 to May 23.
>> An opening reception is 5:30-7:30 p.m., Thursday, March 25. For planning purposes, e-mail itceventrsvp@utsa.edu if you would like to attend.
As UTSA president, Romo has traveled across the state passing through countless small towns with no time to stop. As an historian and photographer, he spent time in these Texas communities and documented his travels over the last few years with stories and photos.
During an undergraduate college trip to London, Romo bought a camera and took pictures of the places he visited. In graduate school, the camera became a bigger part of his life as he set out to document the barrios of East Los Angeles. The bakeries, bridges, people and events were elements that contributed to the cultural makeup of the community.
"You can't just go for a weekend," Romo said, remembering his experiences. "You have to be a part of the community. Have a relationship with the community and after a while, they won't notice the camera. The most successful photographs are the result of bonding over time."
Though business travel takes up a lot of Romo's time, he made the effort to visit different Texas small towns, not just to photograph, but also to talk to members of the community. In an interview recorded for the exhibit, he recounts a trip to Devine, Texas. He stopped at a flea market, met the owners, a couple in their 70s, and joined them for lunch. "You make friends," he said. His memory of the trip was captured in a striking photograph of the owner's wife, standing against a wall wearing a green hat.
On a trip to Abilene to visit a friend, Romo spent time driving to some of the smaller outlying towns. Some of the images captured were a bench painted with the American flag and an old barn. His trip back to San Antonio led through Mason, Fredericksburg, Welfare and Waring.
"Small-town Texas is bigger than I thought," Romo said. "Where did their names come from? What were they like in their heyday? Our small towns are a unique treasure and an important part of Texas history. They are part of oil discoveries and mineral wealth. They supplied the cattle drives. Farms brought their cotton and produce to the small-town railheads. Before it changes too much, I'm interested in capturing what's there."
The exhibit includes 37 photographs from communities including Batesville, Castroville, Crystal City, Cuero, Devine, Floresville, Gonzales, Kingsbury, Marfa, Nixon, Pearsall, Pryor and Yoakum.
"Small Town Texas" also includes a unique educational component. The Institute of Texan Cultures will partner with the Beeville Independent School District. Romo, along with educators from the institute, will spend time with 33 gifted and talented sixth-graders, teaching them how to capture a moment in their town's history through photography, video and oral history. Bee County, where Beeville is the county seat, has a population of about 32,000. The small town is between San Antonio and Corpus Christi on Highway 181.
"This is an opportunity to think about your own small town," said Romo. "Ask questions about your community and think about how you connect."
The student project will be showcased in a curated exhibit at the institute at a later date. "Small Town Texas" is curated by Arturo Almeida, art specialist and curator of the UTSA Art Collection. The Institute of Texan Cultures is on the UTSA HemisFair Park Campus, 801 E. Durango Blvd., a short distance from the Alamo and the River Walk. The museum was recently accepted into the Smithsonian Affiliations program.
Hours are 9 a.m.-5 p.m., Monday-Saturday; noon-5 p.m. Sunday. Admission is $8 for adults (ages 12-64); $7 for seniors (ages 65+); $6 for children (ages 3-11); free with membership, UTSA or Alamo Colleges identification.
The Institute of Texan Cultures is an agency of the UTSA Office of the Vice President for Community Services. The mission of the institute is to engage lifelong learners in the understanding and celebration of Texas cultural heritage. Located on the UTSA HemisFair Park Campus in downtown San Antonio, the 182,000-square-foot complex features 65,000 square feet of exhibits that tell the stories of Texans. The institute develops resources for educators and lifelong learners on cultural heritage and strives to develop a vibrant culture in the arts and humanities that will expand the community's awareness and appreciation of Texas through exhibits, programs and special events.
For more information, call 210-458-2300 or visit the Institute of Texan Cultures Web site.