HR training department honors graduates of Administrative Toolbox seminars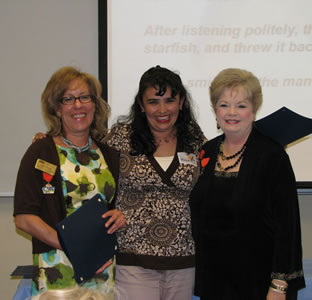 Share this Story
(April 29, 2010)--The UTSA Office of Human Resources training and development department hosted the fourth annual celebration on April 21 for graduates of the Administrative Support Toolbox Series. This year the theme was "You Make a Difference."
The recognition event highlighted the accomplishments of the 15 most recent graduates of the six-part series, along with other UTSA staff who attended one or more of the classes in the series. The special event coincided with National Administrative Professionals Day, which recognizes the vital contributions of administrative professionals across the country.
The Administrative Support Toolbox Series consists of six classes that focus on key functional areas carried out by UTSA administrative staff. The classes provide a high-level overview of the functions, services and resources of each area. Subject matter experts from each of the six areas present important and useful information to class participants. The series runs on a six-month cycle with one class monthly, allowing participation in consideration of busy schedules.
This year's celebration included a beach-themed buffet and an inspirational speech by keynote speaker, Jan Steger, chief of staff for President Ricardo Romo. Steger spoke on the value of lifelong learning and how it is important to have a playbook to guide each person to be successful in whatever role they choose in life.
Additionally, letters of appreciation from the vice presidents and President Romo were presented to seminar graduates in recognition of the unique contributions and roles that administrative support staff members play in UTSA's continuing growth and success. Certificates of achievement were presented to the graduates along with a special gift as a reminder that they make a difference every day.
For more information and to register for the classes, visit the TXClass website or contact Training and Development at 210-458-4658.
------------------------------
Administrative Support Toolbox Series graduates
Amy Alvarez, Office of Financial Aid
Antonio Alvarez, Department of Biology
Marcela Cabello, Department of Mechanical Engineering
Diane Crosby, College of Engineering Advising
Robin Diamond, Police Department
Lachelle Dixon, Center for Research and Training in Sciences
Linda Gall, Office of Financial Services and University Bursar
Margarita Gomez, Department of Bicultural-Bilingual Studies
Ginger Hernandez, Graduate School
Margaret Ibarra, College of Business Advising
Laura James, Department of Interdisciplinary Learning and Teaching
Cheryl Negrete, Center for Research and Training in Sciences
Kevin Olson, College of Education and Human Development Advising
Ana Reynolds, Graduate School
Tiffany Schmidt, Police Department