UTSA art department hosts B.F.A. exhibition with work by 23 graduates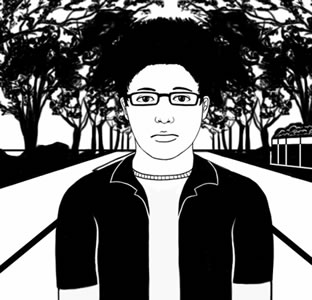 Share this Story
(April 30, 2010)--The UTSA Department of Art and Art History will host the Spring 2010 B.F.A. Exhibition through Thursday, May 6 in the Arts Building Gallery on the Main Campus. A large class of 23 graduates-to-be are presenting a wide range of works in painting, drawing and printmaking, sculpture and ceramics, and photography and video. The exhibition is free and open to the public.
Themes touch upon today's social and cultural climate, experiments with aesthetic possibilities and personal reverie that encourages new creative thought.
The exhibiting artists are:
Caroline K. Armstrong
Angelle Benitez
Apryl L. Corbin
Joseph A. Duarte
James L. Dunn
Brittany D. Gates
Katherine R. Hanson
Esmeralda M. Huerta
Brittany A. Kennedy
Ryan L. Kirby
Michelle A. Love
Jermaine A. Martinez
Chelsie L. McNicol
Marisa E. Morales
Ashley Olmos
Krystal N. Paul
Marcela C. Ramirez
Alfredo Rodriguez
Daniela Sacramento
Alberto R. Sanchez
Matthew B. Van Hellen
Izamari Villa
Robert A. Zavala
Gallery hours are 10 a.m.-4 p.m., Monday-Friday, and 1-4 p.m., Saturday and Sunday, and by appointment. A closing reception is 4-6 p.m., Thursday, May 6. Free parking will be available in lot 8 during the closing reception.
The UTSA Art Gallery presents a mix of professionally curated, juried and student and faculty exhibitions with an emphasis on larger and more complex projects. The UTSA Satellite Space in the Blue Star Arts Complex in Downtown San Antonio divides programming between monthly curated exhibitions and presentations organized by graduate students in studio art and art history.
For more information, contact Laura Crist at 210-458-4391.
-----------------------------
Directions: From Interstate 10, take exit 557 to UTSA Boulevard. At the second traffic light, turn right onto James Bauerle Boulevard. Turn left onto O'Neil Ford Avenue, and then make an immediate right into lot 8. The Arts Building is on the right at the top of the walkway to the center of the Main campus.