UTSA American Humanics students offer volunteer service during spring break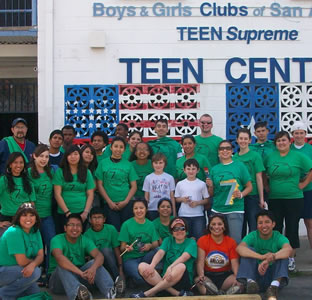 Share this Story
(April 27, 2010)--UTSA students in the American Humanics program spent their spring break turning passion into action, working on various projects with San Antonio nonprofits and one local middle school. This spring break marked the first "7 in Seven" with seven projects completed in seven days.
Forty-one AH students, supporters and alumni logged 318 service hours in the weeklong service project. Additionally, donations for "7 in Seven" totaled $2,485 with monetary and in-kind support from businesses including Office Max, ULTA, AAMCO Transmissions, H-E-B, Rackspace Hosting, Target, Home Depot and Rainbow Gardens. AH students, UTSA faculty and staff, and supporters from as far away as Cleveland, Ohio, also donated money to each project.
"7 in Seven" started Sunday, March 14 at the Barshop Jewish Community Center and ended Saturday, March 20 at SAMMinistries. Other partner organizations were Eva's Heroes, Ed White Middle School, the Battered Women and Children's Shelter, and the Boys and Girls Clubs of San Antonio Teen Center. Each project was led by an officer in the American Humanics Student Association.
"The UTSA American Humanics students were a pleasure to have and made wonderful contributions to our projects," said Rachel Rustin, coordinator of youth and family services at Barshop Jewish Community Center
Jenean Cervantes, UTSA alumna and volunteer coordinator for Girls Inc., thanked American Humanics students "for spending time with the girls, organizing activities and being incredibly supportive of the efforts."
Students in the American Humanics program are working on their national certification in nonprofit management and leadership. The goal of the program is to take socially conscious students and mold them into effective nonprofit leaders. Students must complete rigorous coursework, participate in a 300-hour internship within a nonprofit organization, attend a national symposium for future nonprofit leaders, and complete leadership and service activities to receive their certification.
For more information, visit the UTSA American Humanics website.