Hispanic journalist scholarship application deadline is May 14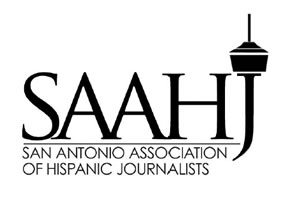 Share this Story
By Kris Rodriguez
Public Affairs Specialist
(April 14, 2010)--For nearly a decade, the San Antonio Association of Hispanic Journalists has awarded scholarships to Bexar County residents majoring in journalism or communication. More than $100,000 in scholarships has been distributed by the organization to promising students who want to further their education. The deadline to apply for scholarships is May 14.
Established in 1986, SAAHJ is comprised of local journalists, public relations professionals and students interested in communications or the public relations industry.
SAAHJ has worked to diversify the U.S. newsroom and has offered scholarship awards of up to $5,000 to Bexar County students, committed to pursuing careers in communications. That includes broadcasting and print media, advertising, public relations, photojournalism, visual arts and multimedia journalism.
High school seniors and undergraduate and graduate college students who will be enrolled full-time at a college in the 2010-2011 academic year can apply. Scholarships are open to Bexar County students who attend local colleges and universities as well as those who attend school anywhere in the United States.
Scholarship applications are available at the SAAHJ Web site. Completed forms must be postmarked by May 14, For more information, call Jorge Zarazua at 210-250-3234 or 210-250-3514.
In addition to the scholarships, SAAHJ also will recognize Martha Tijerina with the Henry Guerra Lifetime Achievement Award for Excellence in Journalism. Tijerina was the first Latina reporter in the nation's first Spanish-language television station, KWEX-TV in San Antonio. Called the "first lady of Spanish-language television," Tijerina was KWEX's first female director of public affairs and a talk show host for 20 consecutive years.
The Community Service Award will be awarded to Rosie Castro, a longtime political activist and community organizer. She ran for city council in 1971 under the Committee for Barrio Betterment and was active in La Raza Unida Party. Today, she is coordinator of the Palo Alto College' Center for Academic Transitions.
Winners will be celebrated at SAAHJ's 12th annual gala in the Grand Hyatt Hotel on July 22. Tickets and table sponsorships are available for the event. For more information, call 210-250-3402.