Texas Folklife Festival tickets available at locations across city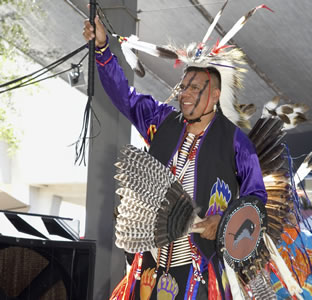 Share this Story
(May 18, 2010)--Advance tickets are now on sale for the Texas Folklife Festival. In addition to online sales at TexasFolklifeFestival.org, guests can purchase tickets at the Institute of Texan Cultures museum store, all H-E-B stores, Lackland and Randolph Air Force bases, Fort Sam Houston and at UTSA Fiscal Services offices.
The 2010 Texas Folklife Festival is June 11-13 at the Institute of Texan Cultures. Admission is $10 advance, $15 gate for adults (ages 12+), $5 advance, $6 gate for children (ages 6-11), free for children age 5 and younger -- and $8 per person (available online) advance only for groups of 20 or more.
There may be convenience fees for advance purchase at some locations and online.
The Texas Folklife Festival is a three-day celebration of Texas' rich cultural diversity. With 10 stages featuring music and dance, more than 150 unique menu items and 65 unique arts and crafts vendors, the festival is one of the largest cultural celebrations in the state.
The Institute of Texan Cultures is on the UTSA HemisFair Park Campus, 801 E. Durango Blvd., a short distance from the Alamo and the River Walk.
For more information, call 210-458-2300 or visit TexasFolklifeFestival.org.