UTSA ranked No. 4 nationally in bachelor's degrees awarded to Hispanics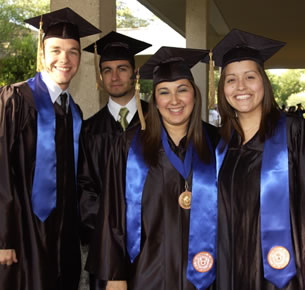 Share this Story
(June 21, 2010)--The University of Texas at San Antonio ranks No. 4 in the nation in the number of undergraduate degrees awarded to Hispanics according to the June 2010 edition of Diverse Issues in Higher Education magazine. The magazine ranked the "Top 100 Bachelor's Degrees Conferred" at the nation's colleges and universities over the 2008-2009 academic year.
UTSA earned the No. 4 national ranking for awarding 1,717 undergraduate degrees to Hispanics or 45 percent of the total degrees awarded. Each year, the Diverse Issues in Higher Education magazine report also includes Hispanic graduation statistics across all major fields of study.
The UTSA undergraduate degree award rankings for Hispanics include:
1st -- Biological or Biomedical Sciences: 174 or 56 percent
3rd -- Business Management, Marketing and Related Support Services: 449 or 43 percent
11th -- Engineering: 66 or 43 percent
19th -- Social Sciences and History: 111 or 44 percent
UTSA is one of more than 200 Hispanic serving institutions (HSI) in the United States, accredited with a full-time Hispanic enrollment of 25 percent or greater. At UTSA, Hispanic enrollment stands at 12,432 or 43 percent of students.
Only eight percent of all postsecondary institutions are HSIs, but half of all Hispanic college students are enrolled in these institutions. HSIs are responsible for awarding nearly 40 percent of all bachelor's degrees conferred to Hispanics.
In 2009, federal funding to HSIs in the United States surpassed $93.2 million.