Southwest Trade Adjustment Assistance Center awarded more than $1 million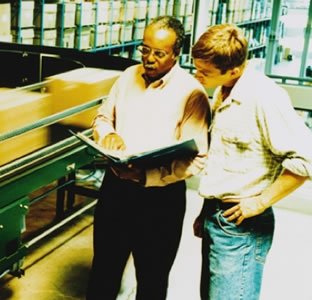 Share this Story
(July 23, 2010)--The U.S. Department of Commerce Economic Development Administration has awarded more than $1.3 million to the UTSA Southwest Trade Adjustment Assistance Center. The award completes a three-year funding cycle and represents an increase over last year's award.
The Southwest Trade Adjustment Assistance Center (SWTAAC) provides a range of services to help manufacturing and service firms in Texas, Louisiana and Oklahoma regain a competitive edge in response to foreign competition.
The center's project managers analyze client operations, determine areas where the firm can use assistance, and provide advice and follow-through to help clients improve their bottom line. Typical services include creating marketing and strategic growth plans, accessing funding and improving the efficiency of operations.
"With this award, we'll be able to increase our project management staff from three to four, and we'll be able to put more money and resources in our clients' hands," said Robert Velasquez, SWTAAC director.
In 2009, the center's tri-state portfolio included 74 firms with more than 3,000 employees. For these firms as a whole, the two-year average decline in sales before seeking SWTAAC assistance was 11 percent. After using the services provided by SWTAAC, firms reported a 49 percent increase in sales. The funding increase is based in part on the center's solid performance record, Velasquez noted.
The center's portfolio includes a wide range of clients. For example, SOS from Texas is a manufacturer of organic cotton products. The business received assistance that led to the company doubling its sales through increased Internet presence, trade show promotion and product development, according to president Gary Oldham.
Similarly, Xenetech Global Inc. in Baton Rouge, La., made use of the SWTAAC services when several of their longtime, domestic distributors were recruited to sell low-cost laser engraving systems produced in Taiwan. Project managers helped them plan for, apply for and receive funds to improve marketing efforts and operating efficiencies.
"I don't know if we would be in business today if it were not for their efforts," said Guy Barone, Xenetech president.
-------------------------------
The UTSA Institute for Economic Development is dedicated to creating jobs, growing businesses and fostering economic development. Its 11 centers and programs provide professional business advising, technical training, research and strategic planning for entrepreneurs, business owners and community leaders. The programs serve San Antonio, the Texas-Mexico border area as well as regional, national and international stakeholders. Together with federal, state and local governments, and private businesses, IED fosters economic and community development in support of UTSA's community-engagement mission.