New UTSA home page offers easy info access for UTSA prospects, daily users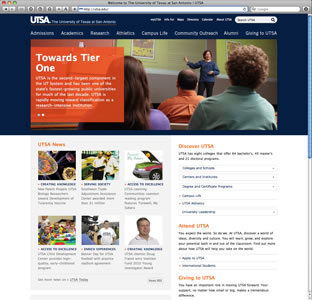 Share this Story
(Aug. 13, 2010)--A redesigned UTSA home page will be launched the evening of Aug. 13. The new site better reflects UTSA's strategic goals and features easy-to-find information for the primary target audiences of prospective faculty members, students and parents.
The redesigned site comes with the university push for Tier One research status, recent academic advances, addition of a football program and development of a more traditional university environment. With more students living on and near the Main Campus, the new site reflects evolving campus life with more evening and weekend events and activities.
"The previous site, which was launched in 2007, included a lot of lists and links that made it difficult for users to find information quickly," said Shashi Pinheiro, UTSA associate director of Web services. "Navigation is improved tremendously on the new site. You can immediately see areas for admissions, academics, campus life, athletics, alumni and other areas."
Craig Evans, UTSA executive director of creative services, said, "The redesigned site is more contemporary. We wanted it to reflect our beautiful campuses and to spotlight the exciting things going on at the university, and I think we have done that."
In the design process, efforts were made to accommodate broad internal and external audiences with streamlined access to colleges, degree programs and campus services. The new website promotes news, events, and academic and research information, keeping in mind the primary target audiences, everyday users, the growing number of alumni, research organizations, corporations, businesses and donors.
The new site also reflects UTSA new visibility and outreach efforts in the community with consideration of the university's strategic goals of serving society through research and community outreach, promoting access and affordability, enhancing recruitment and retainment, and enriching experiences by focusing on campus life.