Do your civic duty: Early voting at University Center is through Friday, Oct. 29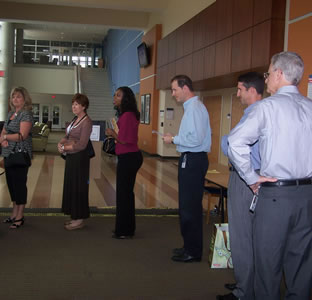 Share this Story
(Oct. 26, 2010)--The first week of early voting for the Bexar County Nov. 2 elections is complete and nearly 1,200 votes were cast at the UTSA polling station at the University Center ballroom lobby on the Main Campus. UTSA students, faculty, staff and any Bexar County voter can vote early from 8 a.m. to 8 p.m. through Friday, Oct. 29.
UTSA neighbor Valero Energy Corp. is providing daily shuttles to bring their employees to the early-voting location on the UTSA Main Campus. UTSA has one of 41 Bexar County early-voting sites for the Nov. 2 joint general, special and bond elections.
For several years, UTSA Student Government Association (SGA) leaders consistently have sought a UTSA voting site because of student requests. SGA and UTSA Alumni Association representatives say that an on-campus, early-voting site encourages students to do their civic duty by voting and getting involved in the political process.
Since early-voting sites have been designated at UTSA, more than 9,700 ballots have been cast on campus. This semester, SGA and several registered student organizations helped register more than 1,600 students to be eligible to vote in the Nov. 2 elections.
When UTSA employees cannot vote before or after working hours, supervisors may grant employees a reasonable period of time off for voting during business hours. Employees must be registered voters to qualify for the time off; time off for voting must be requested in advance and approved by the supervisor. No reduction in vacation allowance or salary will be made for the time taken to vote, as long as supervisory approval is obtained.
----------------------------
>> For more information, visit the Bexar County Elections website.
>> View a sample ballot for the Nov. 2 Bexar County elections.