UTSA community admitted free to San Antonio Museum of Art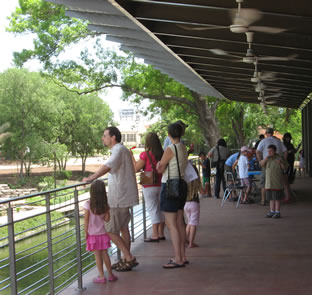 Share this Story
(Oct. 22, 2010)--UTSA students, faculty and staff receive free admission to the San Antonio Museum of Art (SAMA) simply by presenting their UTSACard. The special benefit is a result of the university's corporate benefactor membership to SAMA.
"Now, with the river landing, UTSA students, faculty and staff can take a river barge and enter the museum at our admissions booth along the river or at the main entrance," said SAMA membership director Elizabeth Montemayor.
Since opening in 1981, SAMA has become home to the region's finest display of Greek and Roman antiquities, Asian art, Latin American and folk art, and American paintings -- a world of art that spans 5,000 years of human inspiration and creativity.
Housed in the historic Lone Star Brewery built in 1884, the 104,000-square-foot facility is San Antonio's finest museum exhibition space. The blend of glass elevators, skylights and skywalk in the castle-like building is a sight no one should miss. The museum, located at 200 W. Jones Ave., is listed in the National Register of Historic Places.
The largest collection of Asian art in the southwestern United States is on view in the Lenora and Walter F. Brown Asian Art Wing. The museum's Asian art collections include more than 1,400 objects from China, India, Japan, Korea, Nepal, Pakistan, Southeast Asia, Sri Lanka and Tibet, spanning nearly 6,000 years of history. The two-story, 15,000 square-foot addition to the facility features 12 galleries and a changing exhibition space, offering visitors new insights into the arts of East and South Asian cultures.
Additionally, the Nelson A. Rockefeller Center for Latin American Art, a 30,000-square-foot wing dedicated to the study and appreciation of Latin American art, opened its doors in 1998. The collection features pre-Columbian, folk, Spanish Colonial/Republican, and modern and contemporary art.
In May 2009, the Museum Reach extension of San Antonio's famed River Walk was opened. To accommodate the museum's new riverfront access, SAMA built the Glora Galt River Landing, a shaded pavilion, esplanade and terrace on the museum's north side.
SAMA offers one-of-a-kind exhibits, poetry readings, concerts, storytelling, dance performances, lectures, family days and art workshops. Museum hours are 10 a.m.-9 p.m., Tuesday; 10 a.m.-5 p.m., Wednesday-Saturday; and noon-6 p.m., Sunday. The museum is closed Monday and these holidays: Thanksgiving Day, Christmas Day, New Year's Day, Easter Sunday and Fiesta Friday.
For more information, contact Evaristo Hinojosa, UTSA Office of the President, at 210-458-4986 or Elizabeth Montemayor, San Antonio Museum of Art, at 210-978-8100.
-----------------------------
Cafe des Artistes at San Antonio Museum of Art
In addition to the renowned artwork and educational programming, visitors can enjoy relaxing or reconnecting in the Cafe des Artistes. Whether dining indoors in the casual bistro ambiance or on the outdoor, covered terrace overlooking the River Walk, the cafe is a gathering place unlike any other in San Antonio.
Under the creative direction of celebrated local chef and restaurateur, Damien Watel, the cafe serves gourmet lunch dishes and desserts with an emphasis on fresh soups, salads and sandwiches, along with homemade pastries and croissants.
Cafe hours are 11 a.m.-3 pm, Sunday, and 10 a.m.-3 p.m., Wednesday-Saturday. To coincide with the museum's "Free Tuesday" program, the cafe is open until 9 p.m., Tuesday.