UTSA East Asia Institute associate director honored for diversity advocacy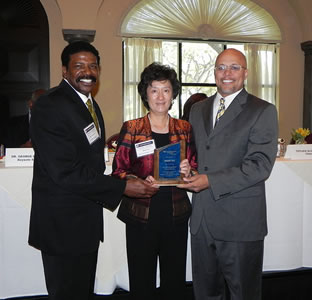 Share this Story
(Nov. 11, 2010)--Mimi Yu, associate director of the UTSA East Asia Institute, has received a DiversityFirst Award from the Texas Diversity Council. Yu was among 10 individuals and organizations recognized at the council's Best Practices and DiversityFirst Awards Luncheon on Oct. 29 in San Antonio.
Since joining UTSA in 2008, Yu has directed many Asia-related cultural and educational events on campus and in the community including lectures, workshops, fairs and festivals, and the East Asia Summer Institute for children, as well as hosting Asian art exhibitions and arranging visits from Asian performing arts groups as part of her outreach efforts.
Before joining UTSA, she taught Japanese for 19 years at the University of Nevada, Reno, where she won the Alan Bible Teaching Excellence Award for her innovative teaching styles that incorporated instructional technology.
"I am a firm believer in promoting diversity through education, and I'm committed to working with local schools and the community to foster their understanding of Asian cultures and to promote the appreciation and inclusion of Asian societies and heritage," Yu said. "As the great Chinese philosopher Confucius once said, 'If you think in terms of a year, plant seeds; in terms of 10 years, plant trees; and in terms of 100 years, teach the people.'
"I think this DiversityFirst Award belongs to the East Asia Institute and highlights UTSA's efforts in promoting multiculturalism and multilingualism in our pluralistic society."
The Texas Diversity Council established the DiversityFirst Awards in 2004 to recognize and celebrate outstanding accomplishments and sustained commitment to promoting appreciation for diversity, inclusion and cultural understanding in the workplace and the community.