Team Dead-eye, Team Chute Damper tie for first in $100K tech venture competition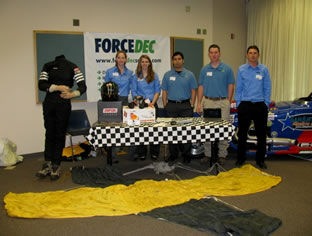 Share this Story
(Dec. 16, 2010)--UTSA business and engineering students responsible for developing and marketing a marksmanship training aid and a parachute shock absorber tied for first place at the UTSA $100,000 Student Technology Venture Competition on Dec. 4 at the UTSA Downtown Campus. Organized by the UTSA Center for Innovation and Technology Entrepreneurship (CITE), the business planning competition offers UTSA students the chance to test their entrepreneurial skills and receive coaching from members of the Harvard Business Club.
The first-place Team Dead-eye developed a prototype and marketing plan for a basic rifle marksmanship training aid. The technology reduces operator error and ensures minimal barrel movement when a rifle fires. It was developed by engineering students Ahmed Alsheri, Susana Caballero, Zachary Hamilton and William Tirado and marketed by business students Jason Strawn, Brad Feltner and Erika Leija.
The competition's other first-place winners, Team Chute Damper, developed a technology that reduces the shock felt by a racecar driver when the car's parachute is deployed. Engineering students Ryan McDonnell and Brian Moczygemba and business students Mary Brown, Alex Quiroz and Amy Hermes developed the technology and business plan, respectively.
Additionally, competitors included Team Fire Suppression, which placed third with an original fire-suppression system designed to reduce vehicle fire fatalities and property damage; Team Back Brace, which offered an electromechanical orthopedic device to correct back problems; Team Static Dynamic, which designed a quad copter which can transport a system containing a video feed back to its user; and Texas Solar Energy Concepts, which developed a flat-plate solar collector for residential power generation.
Together, the six teams will split more than $100,000 in cash and prizes.
UTSA's biannual $100,000 Student Technology Venture Competition promotes student entrepreneurship by pairing engineering students who create viable new technologies with business students who create business plans to market those technologies through a start-up.
The competition is sponsored by the Texas Research and Technology Foundation, Cox | Smith, Harvard Business School Club of San Antonio, San Antonio Technology Center, UTSA College of Business, UTSA College of Engineering and UTSA Office of the Vice President for Research.
CITE established the competition when it was observed that UTSA engineering students were developing new technologies and business students were writing business plans, but neither group of students cultivated their projects after receiving a grade. With the competition in place, UTSA students now develop marketable technologies and launch viable new companies based on those technologies before they graduate.
The Center for Innovate and Technology Entrepreneurship is an interdisciplinary center in the UTSA College of Business and College of Engineering. The center fosters the growth of entrepreneurs and new technology-based ventures through education, experiences, resources and support.