Three UTSA faculty members receive inaugural 2010 Howe teaching awards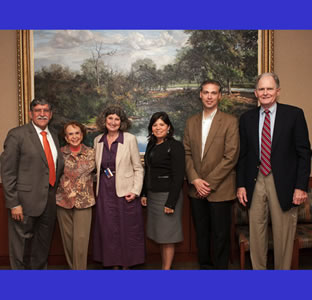 Share this Story
(Dec. 13, 2010)--UTSA President Ricardo Romo and Provost John Frederick joined executive administrators at a luncheon Nov. 29 honoring UTSA professors Cory Hallam, Lisa Montoya and Valerie Sponsel with the 2010 Richard S. Howe Outstanding Service to Undergraduates Teaching Award. The award recognizes UTSA tenured, tenure-track and non-tenure track professors with a minimum of three years of teaching experience at UTSA for developing signature learning and experiences for undergraduates outside the traditional classroom environment.
Each of the three recipients received $2,000 from the Richard S. Howe Endowment. The fund honors former UTSA College of Engineering professor and mentor Richard "Dick" Howe, who was instrumental in establishing a strong foundation for the UTSA College of Engineering. The awards are supported by community leader and philanthropist Edith McAllister.
Cory Hallam serves the College of Business as an information systems senior lecturer and as director of the UTSA Center for Innovation and Technology Entrepreneurship (CITE), supported by both the business and engineering colleges. Hallam was honored with the new Howe award for creating an outlet for technology entrepreneurship through the $100,000 New Technology Venture Competition. The competition, which pairs UTSA seniors in engineering and business, offers the nation's largest new venture start-up package for students.
The opportunity allows the students to test their entrepreneurial prowess and has fueled a desire in many to pursue new technology ventures. In the last year alone, one student start-up secured $60,000 in funding. A second applied for funding through the Texas Emerging Technology Fund. Due in large part to his reputation, presence and guidance, the College of Business undergraduate entrepreneurial program has shown a dramatic increase in student enrollment.
Lisa Montoya serves the College of Business as an economics senior lecturer and as associate dean for undergraduate studies. She was honored with the Howe award for regularly incorporating financial literacy field trips and service learning into her classroom syllabus. Her one-year program, Latinos for Financial Literacy, is a road show that plants a seed in youths regarding the benefits of college and helps them understand the crucial part education plays in elevating low-income families. It also results in internships for many of her students.
Through the program, Montoya's students have delivered financial literacy and college-readiness instruction to at-risk high school students at Navarro Academy in San Antonio. Over the next 18 months, they will take the financial literacy program to E.T. Wrenn Middle School in the Edgewood School District.
College of Sciences Associate Professor Valerie Sponsel joined the UTSA Department of Biology in 1995. Since 1998, she has supervised 15 Honors College students in her plant biology research laboratory and has served as a thesis reader for more than a dozen others. Students who have spent time in Sponsel's laboratory have learned laboratory techniques and how to think, write and ask questions as scientists.
Almost every student in Sponsel's laboratory has been a co-author on a presentation at a national or international conference. In addition to offering students research opportunities in her laboratory, Sponsel connects her students with other UTSA research programs and extensively mentors students contemplating and applying for post-graduate positions in health professions, research and teaching.
"All of you have clearly had a true impact on our students," said Frederick to the three recipients. "They are very grateful and are better off because of your dedication."
----------------------------
The Richard S. Howe Outstanding Service to Undergraduates Teaching Award is a new award developed and supported by Edith McAllister. Additionally, McAllister supports the Richard S. Howe Excellence in Service to Undergraduate Students Award. Established in 1999, the award is given annually to UTSA faculty and staff members who demonstrate an exemplary commitment to UTSA students by promoting student access and success.