UTSA Roadrunner of the Month for November: Neel Desai sets example as role model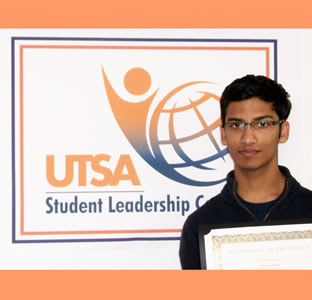 Share this Story
(Dec. 3, 2010)--The UTSA Student Leadership Center announces Neel Desai as Roadrunner of the Month for November 2010. Desai was nominated by Krisellen Maloney, UTSA dean of libraries.
Desai is from Katy, Texas, where he graduated from Mayde Creek High School. A UTSA sophomore studying electrical engineering, he plans to have a career working with software.
"Leadership means being a good role model for others," Desai said.
As a student peer leader, he has been an excellent example of leadership at UTSA. This semester, he offered help and guidance to students enrolled in a Freshman Seminar course. Because of his organizational skills and dependability, the students were able to trust and rely on him for support. Many noted his desire to serve the students above and beyond their expectations.
"On many occasions Neel has responded to requests from students for issues that did not pertain to our class including information related to degree plans, internship opportunities, Honors College enrollment and general scheduling tips," said Maloney.
The UTSA Roadrunner of the Month award is sponsored by the Student Leadership Center to recognize outstanding UTSA student leadership contributions.
Nominees must meet these criteria:
Full-time UTSA undergraduate or graduate student
Cumulative grade point average of 2.5 or higher at the time of nomination
Must have demonstrated excellence in leadership above and beyond typical expectations
Nominations should be for actions that positively impact the UTSA community
>> Submit nominations at the UTSA Student Leadership Center website.