UTSA Institute for Economic Development shows growth trend in difficult economy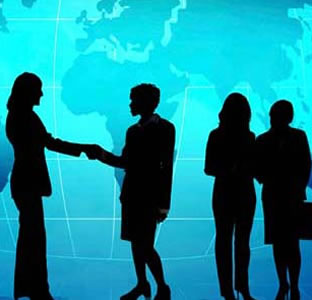 Share this Story
(Feb. 10, 2011)--The UTSA Institute for Economic Development served more than 37,000 business clients in 2010 -- up from 32,000 in 2009 -- as Texans increasingly sought expert advice in starting and growing businesses.
Annual results just released by the institute's 12 diverse centers and programs also showed an increase in net sales, contracts and exports for business clients from $685 to $720 million. Access to capital increased substantially over 2009 from $112 to $196 million.
UTSA business advisers also consulted with a greater number of entrepreneurs, and the institute's workshops and classes drew a larger number of participants than in 2009. Documented business starts and expansions decreased from the previous year, reflecting the continuing challenges of a tough national economy.
>> Download the full report at the Institute for Economic Development website. To request a printed copy of the 2010 Annual Report, e-mail lynn.gosnell@utsa.edu.
"Just like our clients, our staff of business and economic development experts are working harder than ever to bring results-oriented consulting, training, technical services and research to a growing clientele," said Robert McKinley, UTSA associate vice president for economic development. McKinley oversees the institute's diverse portfolio of applied business and economic development programs.
Among the year's key accomplishments, according to McKinley, was the expansion of the Small Business Development Center (SBDC) model into Latin America. Since 2003, IED leadership has worked to nurture SBDC counterparts at higher education institutions -- totaling 101 in Mexico, five in El Salvador and three in Colombia.
This growing inter-American network serves to stabilize regional economies and provide extensive market access for small business trade expansion. The SBDC International Trade Center also launched SBDCglobal.com, an innovative online trade platform that eases the way for trade and commerce among SBDC clients at home and abroad.
"We've also expanded our reach and expertise in Texas rural community development, environmental sustainability and veteran-owned businesses," McKinley said, in reference to several recently launched initiatives.
The IED hosts the San Antonio Small Business Development Center, Center for Business and Community Research and Minority Business Enterprise Center as well as other applied economic and community development programs. See the full list of the IED centers and programs.
"Small businesses are leading the turnaround for the Texas economy, and UTSA is doing its part to help them grow and prosper," McKinley said. "As one of the top-tier university economic development organizations in the country, we are proud to be a key component of UTSA's Tier One mission of serving the public through community engagement."
------------------------------
About the UTSA Institute for Economic Development
The UTSA Institute for Economic Development is dedicated to creating jobs, growing businesses and fostering economic development. Its 12 centers and programs provide professional business advising, technical training, research and strategic planning for entrepreneurs, business owners and community leaders. Programs serve San Antonio and the Texas-Mexico border area as well as regional, national and international stakeholders. Together with federal, state and local governments and private businesses, the IED fosters economic and community development in support of UTSA's community engagement mission.