CASE honors UTSA President Ricardo Romo with Executive Leadership Award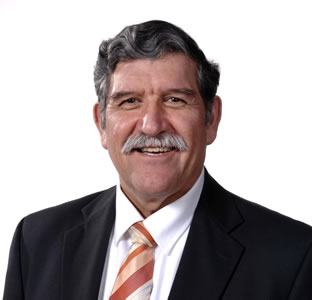 Share this Story
(Feb. 23, 2011)--On Monday, Feb. 21 at the Marriott New Orleans, District Four of the Council for Advancement and Support of Education honored UTSA President Ricardo Romo with its distinguished E. Joseph Savoie Chief Executive Leadership Award for his guidance in transforming UTSA from a regional campus to an emerging Tier One research university.
The service award, better known by CASE District IV members as the "CEO of the Year" award, is one of the highest honors given annually to a university president, chancellor or other institutional CEO for successfully promoting education and institutional advancement. CASE District IV includes members in Texas, New Mexico, Oklahoma, Arkansas, Louisiana and Mexico.
"President Romo is extremely deserving of CASE's CEO of the Year award," said Marjie French, UTSA vice president for university advancement. "He is a native Texan who has dedicated his life to accessibility in higher education, and under his leadership, UTSA has grown to become an aspiring Tier One research institution with the full support of the community. CASE couldn't have picked a better leader to honor this year."
Romo became UTSA's fifth president in May 1999. Since that time, he has guided UTSA through significant institutional growth by strategically focusing on scholarship, educational access, enriched experiences and service to the community. In the last decade, UTSA's enrollment has grown nearly 50 percent to more than 30,000 students, and the university has added numerous programs and facilities to enhance student life.
With Romo at the helm, UTSA has nearly tripled the number of advisers on its campuses and has become a recognized leader in "Closing the Gaps," an initiative of the Texas Legislature which seeks to increase the number of Texans enrolled in higher education institutions.
A nationally recognized and respected urban historian, Romo earned his doctorate in history from UCLA, his master's degree in history from Loyola Marymount University and his bachelor's degree in education from the University of Texas at Austin. He is the author of "East Los Angeles: History of a Barrio," currently in its ninth edition and available in both English and Spanish.
While at UTSA, Romo has served on a variety of national and international boards and commissions related to education including the President's Board of Advisers on Historically Black Colleges and Universities; the United Nations Educational, Scientific and Cultural Organization; and the Commission for College Ready Texas. Additionally, he serves on more than 20 local boards and is particularly involved with San Antonio museums and United Way.