UTSA American Humanics program offers alternative Spring Break activities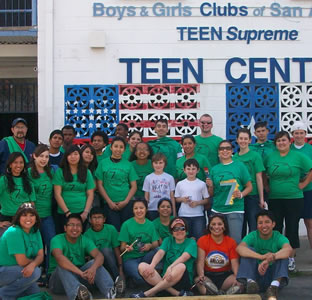 Share this Story
(March 11, 2011)--If you're looking for fun things to do over Spring Break, while giving back to the community, American Humanics at UTSA has the answer… an alternative Spring Break.
The program will host its "7 in Seven" project March 12-18. The event features seven projects that can be completed in seven days -- but volunteers are needed.
>> To volunteer, visit the 7 in Seven website.
>> To contribute needed supplies, download a form (PDF document).
American Humanics at UTSA is a national certification program in nonprofit management and leadership. Students participate in the program through coursework in nonprofit management at the graduate and undergraduate levels and membership in the American Humanics Student Association.
For more information about American Humanics, contact the UTSA Center for Policy Studies at 210-458-2691.
------------------------------
7 in Seven projects
March 12-18, the 7 in Seven project will make an impact in San Antonio through the completion of seven new service projects. Join us!
Saturday, March 12 -- SA Youth
Cooper Headquarters Beautification Project -- artists needed
Beautification and redecoration of the center
Shift 1: 9 a.m.-noon
Shift 2: Noon-4 p.m.
Shift 3: 9 a.m.-4 p.m.
Sunday, March 13 -- Barshop Jewish Community Center
NOVA program set construction for "Annie" production -- builders needed
Monday, March 14 - Code Enforcement Services
Graffiti Wipeout
Tuesday, March 15 -- United Way of San Antonio and Bexar County and Presa Community Center
Support in preparing for anti-smoking event, "Kick Butts"
Wednesday, March 16 - Day of Dogs (and Cats)
Physical and non-physical work with various animal rescue groups
Shift 1: 9 a.m.-noon (Foster 500)
Shift 2: Noon-4 p.m. (SNIPSA, Animal Defense League and Foster 500)
Thursday, March 17 - San Antonio Parks and Recreation
Go Green for St. Patrick's Day: Park clean-up
Friday, March 18 - SA2020
Support for SA2020 Final Report Release March 19
Shift 1: Various times March 14-18
Shift 2: 9 a.m.-2 p.m., Saturday, March 19
Shift 3: Open