UTSA Office of P-20 Initiatives, Rackspace host young women's leadership conference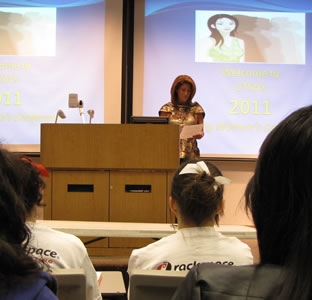 Share this Story
(March 16, 2011)--The UTSA Office of P-20 Initiatives and Rackspace Hosting hosted the Young Women's Leadership Conference on March 5 at the UTSA Downtown Campus. The free conference, designed for middle and high school girls, provided sessions on True Colors, STEM (science, technology, engineering and mathematics) careers, empowerment and leadership development.
The conference included addresses by KENS 5 news anchor Sarah Lucero and Lorena Havill of the Texas Biomedical Research Institute.
Presentation topics included women in science and engineering, Internet safety, soft skills and professional etiquette, and other breakout sessions geared toward providing information about going to college for young women. Presenters from organizations around the city volunteered their time to share their personal experiences and to talk about the benefits of higher education.
"This conference helped to address multiple issues of sisterhood related to college awareness and also helped to provide inspiration and motivation to the young women of Bexar County," said Darrell Balderrama, director of outreach programs with the UTSA Office of P-20 Initiatives.
Conference attendees from across the city networked with the presenters and learned about resources available to them.
"It was great to see how engaged the girls were with the speakers," said Cara Nichols, Rackspace community affairs director. "We have a vested interest in giving girls in our community an opportunity to see the importance of STEM fields and what kinds of careers are in those fields."
For more information about upcoming events of the UTSA Office of P-20 Initiatives, e-mail Darrell Balderrama.