National Collegiate Cyber Defense Competition winner: University of Washington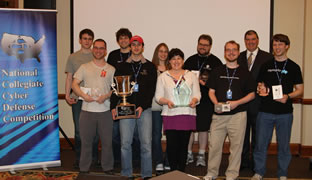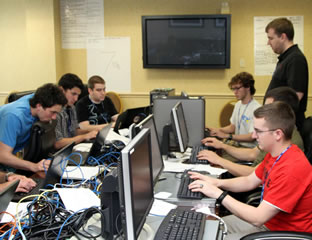 Share this Story
(April 18, 2011)--The University of Washington took first place at the sixth National Collegiate Cyber Defense Competition (NCCDC) April 8-10 in San Antonio. Presented by Deloitte for the 2011 season, the NCCDC pits teams of full-time college students from across the country against each other in an environment where cyber security skills are pushed to the limit.
Strong opposition came from Texas A&M University and the University of Louisville, who took second- and third-place honors during the competition.
"This competition gets better every year," said Dwayne Williams, director of the 2011 National CCDC. "We challenge them to find that balance between fending off cyber attacks and supporting business operations -- exactly what cyber security professionals have to do every day. Each year the competitors seem more focused and better prepared for whatever we throw at them. There are some very talented teams from across the country at these CCDC events."
Hosted by the UTSA Center for Infrastructure Assurance and Security (CIAS), the competition featured nine teams that were scored on their ability to operate and maintain a business network while under hostile cyber attack. One hundred nine schools participated in CCDC qualifying and regional events nationwide.
The 2011 national competition featured nine regional winners: California State Polytechnic University at Pomona, Indiana Tech, Rochester Institute of Technology, Texas A&M University, United States Air Force Academy, University of Louisville, University of Maryland, University of Washington and University of Wyoming.
The participants advanced to the National CCDC after winning their state and regional competitions. While similar to other cyber defense competitions, CCDC competitions are unique because they focus on business operations and incorporate the operational aspect of managing and protecting an existing network infrastructure. The teams inherit a simulated network from a fictional business complete with email, websites, data files, and users.
Each team is required to correct problems on their networks, perform typical business tasks and defend their networks from a red team generating live, hostile activity throughout the competition. The teams are scored on their performance in the three areas, and the team with the highest score at the end of the competition is crowned the National Collegiate Cyber Defense champion.
CCDC is sponsored in part through donations from leading businesses in the communications and information technology industries. Donated hardware and software from leaders in the IT industry are used during the competition to provide students the opportunity to work with technologies they would never see in a typical classroom environment.
The National CCDC was sponsored through donations and volunteer support from:
For more information, visit the NCCDC website or contact CIAS at 210-458-2119.