UTSA hosts May 18-27 exhibit of esteemed Chinese painter Yaping Xiang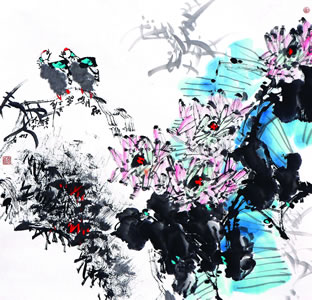 Share this Story
(May 17, 2011)--The UTSA Department of Art and Art History and the Confucius Institute will present recent work by the esteemed Chinese painter Yaping Xiang, who extends traditional Chinese painting themes and techniques with contemporary influences. Free and open to the public, the exhibition "Xiang Yaping: The Traditional and the Modern in Chinese Landscape Painting" will run May 18-27 in the Arts Building gallery on the UTSA Main Campus.
>> An opening reception is 6-8 p.m., Wednesday, May 18. Free parking will be available in lot 13 during the reception. See directions below.
With a masterful array of fluid gesture and detailed investigation, the exhibit of more than 50 works depicts real and fantastic images of landscapes, flowers, insects and birds. The artist learned to paint in his early childhood in Zhengzhou, Henan province.
Xiang is president of the Sheyouzhai Art Research Institute of Chinese Painting, member of the Henan Artists Association, academician at the Dahua Calligraphy and Painting Research Institute of China and a member of the Henan Chinese Painting Association. His work has been included in numerous exhibitions as well as the prestigious National Fine Arts Exhibition.
Gallery hours are 10 a.m.-4 p.m., Monday-Friday, and 1-4 p.m., Saturday and Sunday, and by appointment.
For more information, contact Laura Crist at 210-458-4391.
------------------------------
Directions to the UTSA Main Campus
The UTSA Arts Building gallery is on the UTSA Main Campus, One UTSA Circle, San Antonio, Texas 78249. From Interstate 10, take exit 557 to UTSA Boulevard. At the first traffic light, turn right onto Valero Drive. Turn left onto East Campus Drive and then make an immediate right into lot 13. Shuttle buses travel directly to the Arts Building.
>> View a map of the UTSA Main Campus.