Benefits-eligible employees: UTSA Staff Council nominations begin June 6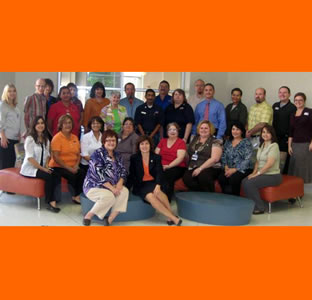 Share this Story
(May 26, 2011)--UTSA Staff Council nominations are coming soon. Watch your email on June 6 and nominate yourself or a co-worker in your vice president's area to represent you on the UTSA Staff Council for the next two years. You can be a voice at UTSA by participating in the Staff Council nomination process.
"We are looking for dedicated staff who are able to make a two-year commitment as active Staff Council members," said Cie Gee, UTSA Staff Council chair. "The Staff Council meets once each month. Membership entitles service on at least one Staff Council committee. Members get to network with other UTSA staff, discuss important issues and participate in other activities."
The UTSA Staff Council is an advisory body through which UTSA staff members convey information and make recommendations to President Ricardo Romo regarding staff-related interests and concerns. It is charged by the UTSA president and the UT System Board of Regents with continually improving university operations and the well-being of UTSA staff.
A request for nominations will go to all benefits-eligible staff members on June 6 and will be open for approximately one week. Nominees will be contacted by Staff Council Elections Committee members once nominations close and asked to accept the nomination and responsibilities involved in being a Staff Council representative in order to have his or her name placed on the ballot. Nominees must be UTSA benefits-eligible classified or Administrative and Professional employees.
Voting for new 2011-2013 Staff Council members is scheduled for late June. New representatives will begin their two-year terms in August 2011.
------------------------------
Learn more at the UTSA Staff Council website. Follow UTSA Staff Council on Facebook; like us and stay up to date on issues that affect UTSA staff members.