Institute of Texan Cultures celebrates 40th anniversary of Texas Folklife Festival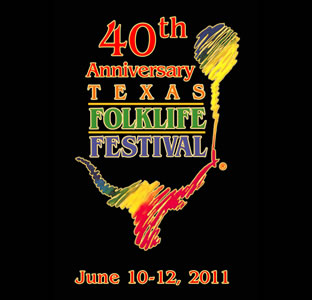 Share this Story
(June 7, 2011)--For 40 years, the Texas Folklife Festival has celebrated the incredible breadth and diversity of the cultures of Texas. This year's festival is June 10-12 at the Institute of Texan Cultures in downtown San Antonio.
Established in 1972, four years after San Antonio's HemisFair celebration, to the echoes of the Civil Rights movement and the Vietnam War, the Texas Folklife Festival created a much-needed sense of community, shared values and pride. On the festival's 40th anniversary, it continues the legacy of distilling the essence of Texas into a three-day celebration of music, dance, costume, crafts, food and diversions from the many unique people who call Texas "home."
"The Texas Folklife Festival has made a huge difference over the years," said Jo Ann Andera, festival director since 1981. "There are groups that exist and thrive today because they wanted to participate in the festival. Ukrainian, Greek or Lebanese, they are proud of who they are and they are proud to call themselves Texans."
TFF is the greatest expression of the museum's mission, serving as a forum for the understanding and appreciating Texas and Texans. It brings the exhibit floor to life in a unique and profound experience.
"While museum exhibits can be greatly informative, there's a spark of life that seems to be missing," said John Davis, interim executive director at the institute. "In a museum about culture and people, the best way to learn is through those who live and preserve these traditions. That's what we try to do at the Texas Folklife Festival."
Festival founder O. T. Baker once discussed the principles of the festival with a group of English women who were planning their food booth. When he overheard one of the women ask what the Americans might like to eat, Baker stepped in, saying, "It's about what the English might like to eat." Baker knew that sharing a typical meal and spending time with those who prepared it, visitors learn a little more about that culture.
Experiencing the foods includes sampling from some 150 menu items including Polish pierogi, Wendish noodles, Greek gyros, Filipino lumpia, Indian fry bread, Salvadoran pupusas and more.
Baker's founding principles carry into other festival experiences including music and dance, which are always at the heart of any cultural celebration. This year, the festival will feature a variety of performances on six stages. Music offerings range from gospel, to zydeco, to classic rock 'n' roll will keep visitors on their feet. Dance performances will include the Zorya Ukrainian Dance Ensemble, Flemish Folkdancers of the Belgian American Club of Texas, Chilean Folklife, Jones Korean Dance Group and Ballet Folklorico de San Antonio.
Also essential to folkways are trades and crafts. The festival continues to bring a variety of artisans to the museum's Back 40, for what Baker dubbed "schools." Artisans welcome visitors to try their hand at skills including basket weaving, woodworking, quilting and whittling.
In recognizing the festival's contribution to Texas heritage, the Institute of Texan Cultures now is hosting the yearlong exhibit "40 Years of Texas Folklife Festival Memories." The exhibit showcases the stories, images, sounds and artifacts highlighting the festival's most memorable moments. Throughout the year, Texas Folklife Festival participants will host special events, performances and demonstrations.
The Texas Folklife Festival is on the grounds of the Institute of Texan Cultures, 801 E. Durango Blvd., in downtown San Antonio. Festival hours are 5-11 p.m., Friday, June 10; 11 a.m.-11 p.m., Saturday, June 11; and noon-7 p.m., Sunday, June 12. Adult admission (age 13 and up) is $10 in advance, $12 at the gate. Child admission (age 6-12) is $5 advance, $5 at the gate. Children age 5 and under are admitted free. Advance tickets are available at TexanCultures.com, Institute of Texan Cultures museum store, H-E-B stores, Fort Sam Houston, Lackland Air Force Base and Randolph Air Force Base.
For more information, visit the Texas Folklife Festival website, call 210-458-2390 or follow Texas Folklife Festival on Facebook.
-------------------------------
A Smithsonian affiliate, the Institute of Texan Cultures is on the UTSA HemisFair Park Campus in downtown San Antonio. The institute is the forum for the understanding and appreciation of Texas and Texans through research, collections, exhibits and programs and strives to become the nation's premier institution of contemporary cultural and ethnic studies focusing on Texans and the diverse cultural communities that make Texas what it is. An agency of the UTSA Office of the Vice President for Community Services, the 182,000-square-foot complex features 45,000 square feet of exhibit space and five recreated Texas frontier period structures.