NIH Awards UTSA $2.4 Million to Groom Science Students for Research Careers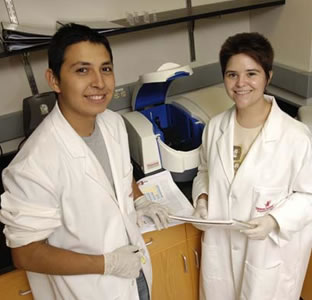 Share this Story
(July 11, 2011)--Over the next five years, The University of Texas at San Antonio is slated to receive $2.4 million in funding from the National Institute of General Medical Sciences to continue its MARC research training program, which supports underrepresented and disadvantaged UTSA undergraduates majoring in biology, chemistry, mathematics, computer science, statistics, physics or engineering. UTSA will use the funding to partially support 12 students each year through 2016.
The MARC program, also known as Minority Access to Research Careers Undergraduate Student Training for Academic Research or MARC-U*STAR, is an honors program that allows underrepresented and disadvantaged students to thoroughly prepare for admission into competitive graduate science programs. UTSA MARC students receive research and professional skills training, $2,080 per semester toward tuition, a $931 monthly stipend and funding to travel to two conferences. In addition, the program provides the undergraduates with leadership training, mentoring and other skills critical to building a successful career as a research scientist.
UTSA has offered the MARC program for 31 years. During that time, the program has supported 231 students with more than $10.1 million in support from the National Institutes of Health. Some of the program's alums have completed doctoral research programs and now teach at the university level. Others have pursued health sciences training and earned their professional degrees.
"In recent years, most of our MARC students have enrolled in graduate programs," said Edwin Barea-Rodriguez, MARC director and chair of the UTSA Department of Biology. "During that same time frame, all of the students who participated in the MARC program and applied to graduate school were admitted. Our recent graduates are now at Stanford, Harvard, the University of Michigan, the University of Iowa and the University of Washington, Seattle."
The MARC program is one of a dozen training programs housed in UTSA's Center for Research and Training in the Sciences, a center within the UTSA College of Sciences.
To learn more about MARC, visit their website.