UTSA African American Literatures and Cultures Institute hosts summer program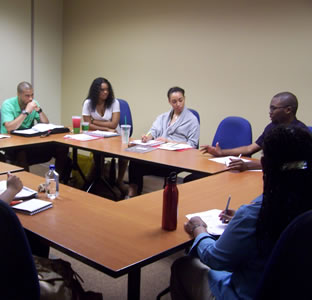 Share this Story
(Aug. 9, 2011)--In 1865, Patrick Francis Healy became the first African American to earn a doctoral degree when he received his Ph.D. in Philosophy from the University of Louvain in Belgium. Healy would go on to become the first African American president of a university when he took the leadership role at Georgetown University at age 39.
Over the last century the country has seen the number of African Americans receiving doctoral degrees rise, but the number of faculty openings at universities with African American Literary Studies programs has dwindled down to single digits nationwide in recent years.
To address the problem, The University of Texas at San Antonio launched the African American Literatures and Cultures Institute in January 2010 under the leadership of Joycelyn Moody. Moody funded the institute through her endowment as the Sue E. Denman Distinguished Chair in American Literature.
In June, the institute hosted a three-week summer program with eight African American students from across the nation. The students received $2,000 research stipends, rigorous mentoring, innovative academic training and encouragement to pursue academic careers in English and African American literary studies.
Workshops on various topics including race, poetry, and the student's personal experiences in academia, were led by Howard Rambsy II, professor of literature and director of the black studies program at Southern Illinois University in Edwardsville.
This program gets students acclimated to pursue careers in academia and participate in extended conversations on big topics in African American Studies," said Rambsy. "I hope they will go back to their universities and get really motivated to make a formalized plan to follow up on their various career paths."
Rambsy, who's been teaching for seven years and is the third member of his family to receive a doctoral degree, would like to create a pipeline for students to earn their Ph.D's and join him in academia.
"I hope this personal experience allows them to go on and significantly change the trends that we have seen in the past, said Rambsy. "I want them to see a bigger holistic picture and go beyond their own personal narratives."
One of the students enrolled in the program was Simone Parris, a 21-year-old junior from Cornell University.
"I felt this institute would prepare me for graduate school by placing me with people who would motivate me to pursue my doctorate in a field that does not receive as much money or respect such as a doctor or lawyer," said Parris. "I feel like I have the support and opportunity to be around people that share my passions and interests."
Derrick Reed, a 21-year-old junior from Morehouse College, chose to attend because he is intellectually hungry and welcomes the discourse among students.
"We are learning some of the nuances of what it takes to become an actual professor and I am gathering interesting information that I can use later, such as statements of purpose, writing samples and recommendations I will need to continue into graduate studies."
The final highlights of the institute included students traveling to New York City to explore cultural attractions, and participating in a closing ceremony in the University Center Denman Room where they shared their personal experiences.
Selected students must be interested in learning more about how to become a professor of African American literacy and cultural studies, be a junior with at least one year of undergraduate studies to complete, and must select and work with a dedicated mentor through the graduate school application process through completion of a mentor-directed research program.
To learn more, contact Joycelyn Moody at (210) 458-6857 or joycelyn.moody@utsa.edu or visit AALCI
------------------------------