Businessman Red McCombs kicks off 'Fill 'Er Up' campaign for UTSA Athletics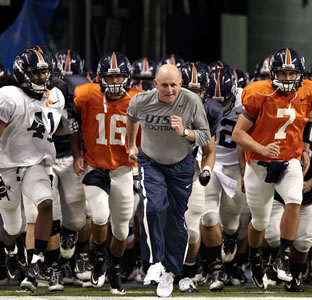 Share this Story
(Aug. 19, 2011) -- Local business leader Red McCombs announced Friday he will donate $1 million to UTSA Athletics, matching the single largest gift in department history. The announcement came during a local breakfast held by the Greater San Antonio Chamber of Commerce at Stonewerks Big Rock Grille at The Rim.
Additionally, the McCombs family pledged to purchase 1,000 tickets for UTSA's inaugural football game against Northeastern State Sept. 3 at the Alamodome.
"Red McCombs has been a steadfast supporter of UTSA," said UTSA President Ricardo Romo. "Like many in San Antonio, his enthusiasm for our new football program is unstoppable. With his help and the help of local business leaders, we are aiming to sell all 65,000 seats at our first game. Let's 'fill 'er up.'"
McCombs' million-dollar pledge kicks off a fundraising campaign to build practice facilities at the new UTSA Park West athletics complex near the intersection of Highway 1604 and Kyle Seale Parkway. Once completed, the complex will be home to all UTSA Athletics teams.
"Today, the center of San Antonio is UTSA," McCombs said. "We need a lot of things at UTSA. We have to have practice fields, and I'm going to kick that drive off today."
"We certainly appreciate Mr. McCombs and his gift and all of the support we've received in the San Antonio area," UTSA Head Football Coach Larry Coker said.
"What Red has pledged to our department is nothing short of amazing," said UTSA Athletics Director Lynn Hickey. "We want to thank him for his generosity and support of our athletics department."
At the Chamber breakfast, Hickey also announced Jim Bodenstedt, a graduate of the UTSA College of Business (1996), will purchase 500 tickets. Bodenstedt, and his wife, Cathy Bodenstedt, donated $1 million last year to support UTSA Athletics.