PREP student researches effects of technology on reading comprehension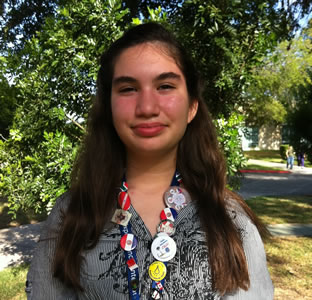 Share this Story
(Aug. 4, 2011)--When organizers of the MILSET Expo-Sciences International were handing out awards at the July 18-23 competition in Bratislava, Slovakia, it was apropos that 14-year-old San Antonian Celeste De La Torre received a coffee table book about Slovakia's history and culture as the only special award given in the behavioral sciences category, which included 33 participants from 14 countries. After all, De La Torre, a bibliophile at heart, had just demonstrated that Hispanics achieve better reading comprehension when they use printed textbooks as opposed to electronic readers.
De La Torre began the behavioral sciences project in October 2011 with longtime friend Diane Squire, also an avid reader. Together, they asked a question that few can answer: Do electronic readers have an impact on students' reading comprehension levels?
"When we began our project, we could only find research that tested one e-reader to another," De La Torre said. "We couldn't find anything that tested paper books and e-readers, keeping in mind reading comprehension."
With an initial pool of 62 Hispanic fourth and fifth graders, De La Torre and Squire slowly and methodically whittled their group of test subjects down to two dozen. The teens gave the subjects a variety of passages to read in printed textbooks and on a Kindle. Then they tested their subjects' reading comprehension levels.
The results were staggering. Both the boys and the girls scored significantly better, approximately 20 percent better, on reading comprehension tests for the passages that came from printed textbooks.
De La Torre and Squire qualified for the international science fair in Europe after winning the second grand prize at the Alamo Regional Academy of Science and Engineering (ARASE) Fair at St. Mary's University in San Antonio. They pursued their science project in response to Texas HB 4294, which received strong support in both Texas houses and was signed into law by Texas Governor Rick Perry on June 19, 2009. Among other things, the bill allows school districts to purchase electronic readers in lieu of duplicate sets of printed materials, once they have purchased an initial set of classroom textbooks.
Although De La Torre's findings haven't deterred her from believing technology has a place in the classroom, she advises educators to make the introduction of technology a gradual process for students.
"It's important for students to become as comfortable with e-books as they are with printed books," she said. "Hong Kong is great at using e-books in the classroom. We should study what they do."
De La Torre was one of 1,375 students who participated in the San Antonio Prefreshman Engineering Program this summer, an academically intense summer camp established at UTSA in 1979 to encourage middle and high school students, especially minorities and females, to pursue careers in science, technology, engineering and mathematics (STEM). PREP's curriculum teaches abstract reasoning and problem solving skills through lectures, seminars and hands-on activities that allow students to learn and apply advanced STEM concepts.
Applications for PREP's 2012 summer program will be available in November. Watch the PREP USA website for details.