UTSA business college opens global venture competition with Canary Islands university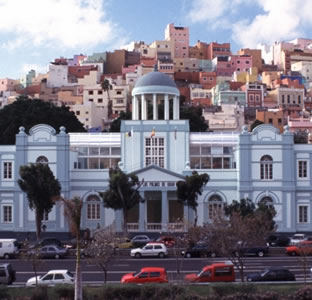 Share this Story
(Sept. 2, 2011) -- The UTSA College of Business recently launched a Global Venture Competition with the Universidad de las Palmas in the Canary Islands. The international technology entrepreneurship competition paired 12 UTSA business students with engineering students from the Canary Islands.
"The goal of the program is to strengthen UTSA's global ties with strategic partners through participation in an international business immersion student competition in technology entrepreneurship," said Lynda de la Vina, dean of the UTSA College of Business and executive director of the college's Center for Global Entrepreneurship. "The program provides students with the academic and practical global business immersion experiences that they need to become confident, successful international entrepreneurs."
The UTSA business students teamed up and wrote business plans for the commercialization of a technology prototype that was developed by the Canary Islands engineering students. The five-day competition concluded by crowning a winner, Petrol Clean, a company created to capture and condense combustible vapors. Team members were Randy Cisneros, UTSA; Ivan Lyra, UTSA; and Marta Trujillo, Universidad de Las Palmas de Gran Canaria.
The competition was led by Cory Hallam, director of the Center for Innovation and Technology Entrepreneurship (CITE), and Anita Leffel, assistant director of CITE.
The UTSA Center for Global Entrepreneurship was established to meet the educational and career needs of emerging market entrepreneurs and those who support them. CITE, an interdisciplinary center in the UTSA College of Business and College of Engineering, was established to create a pipeline for UTSA faculty and students and the surrounding business community to develop new technology ventures.
Nationally ranked and recognized, the UTSA College of Business is accredited by AACSB International, The Association to Advance Collegiate Schools of Business. It is one of the 40 largest business schools in the nation with 5,600 enrolled students and 37 graduate and undergraduate business programs. The college is dedicated to raising its academic profile to become one of the best business schools recognized for developing "Knowledge for a New World." For more information, visit the UTSA College of Business website.