Institute of Texan Cultures exhibit looks at Texas through photo editor's eye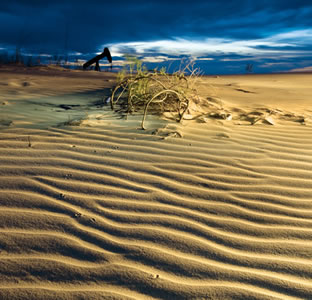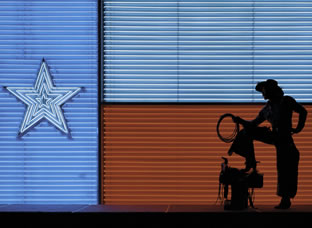 Share this Story
(Sept. 28, 2011) -- One of the most memorable images of the Institute of Texan Cultures in San Antonio is its 11-foot-tall neon Texas flag.Paired with the silhouette of a cowboy, it's a Texas icon recognized across the state.It's an image J. Griffis Smith captured in 1986 and one of the signature pieces of "Griff Smith's Texas: A Retrospective Through the Lens and Images from Texas Highways," a photographic exhibit running Oct. 1-March 25 at the Institute of Texan Cultures.
Smith has worked for Texas Highways, the official travel magazine of Texas, for more than 25 years and has been the photo editor since 2009. According to a March 2011 article in the magazine, his work has sent him "from Alpine to Zephyr." During his career, he has covered a wide spectrum of subjects from majestic landscapes to unique people who have contributed to the tapestry of Texas culture.
"With the use of creative lighting and composition, I strive to make the obvious appear almost bigger than life," said Smith. "I want to get the viewer to feel like they could actually put their hand into the scene and touch whatever subject I am photographing."
Among the 58 images in the exhibit are landscapes such as the Cadillac Ranch near Amarillo, the lighthouse at Port Isabel and the Monahans sand dunes.The many portraits in the exhibit include an Indian woman at the Tigua reservation near El Paso, father and son accordion players in Buda and a trick roper at the Dixie Dude Ranch in Bandera.
"Griff Smith's Texas" describes the artist's work on-location and what was involved in capturing some of the images. A video component of the exhibit offers the visitor insights into the creative process at Texas Highways, which determines the subjects and stories Smith shoots or selects images to illustrate.
"The Institute of Texan Cultures tells the stories of Texas and Texans, and 'Griff Smith's Texas' accomplishes this in spectacular fashion,"said Bryan Howard, ITC director of exhibits."Texas Highways has helped shape perceptions of Texas for residents and visitors since 1974, and for the past 25 years, Griff has shown the beauty, diversity and mystery of our state."
The Institute of Texan Cultures is on the UTSA HemisFair Park Campus, 801 E. Cesar E. Chavez Blvd., a short distance from the Alamo and the River Walk. Hours are 9 a.m.-5 p.m., Monday-Saturday; noon-5 p.m., Sunday.Admission is $8 for adults (ages 12-64); $7 for seniors (ages 65+); $6 for children (ages 3-11); free with membership, UTSA or Alamo Colleges identification. For more information, call 210-458-2300 or visit TexanCultures.com.