UTSA Law School Fair is Oct. 3 at University Center on Main Campus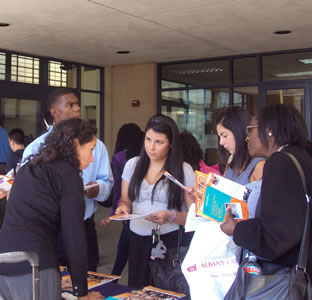 Share this Story
(Sept. 28, 2011) -- The UTSA Institute for Law and Public Affairs (ILPA) will host the seventh annual UTSA Law School Fair from 11 a.m. to 3 p.m., Monday, Oct. 3 at the University Center on the UTSA Main Campus. The fair is open to anyone who wants to learn about law schools across the nation and how to apply. The event is sponsored by the ILPA and the Southwest Association of Pre-Law Advisors.
This year's fair will include representatives from 100 of the nation's law schools. Exhibitors will provide information about pre-law academic preparation, law school admission, law school financing and benefits of the various law schools.
ILPA aims to enhance pre-law educational opportunities and increase the number of Texas students who gain admission to and excel in high-quality law schools. Since the institute's inception, students have been accepted at more than 150 law schools and enrolled in numerous diverse law schools across the country including Harvard; University of California, Berkeley; Columbia; Georgetown; State University of New York, Buffalo; Michigan; Michigan State; Oklahoma; Denver; Idaho; Iowa; Wisconsin; Hofstra; Ave Maria; Syracuse, City University of New York and all nine law schools in Texas.
The ILPA Summer Law School Preparation Academy encompasses 12 hours of coursework designed to hone the analytical, critical-reading skills and writing skills that students need to perform successfully. Students who complete the 12 hours of coursework receive the UTSA Certificate in Legal Reasoning.
For more information, contact the Institute for Law and Public Affairs at 210-458-2990, email Ana Alvarez or email ILPA.