Actors From the London Stage troupe presents Shakespeare's 'The Tempest'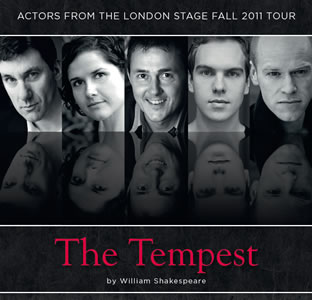 Share this Story
(Sept. 30, 2011) -- The UTSA Friends of Shakespeare and the Department of English will host Actors From the London Stage as they present "The Tempest" by William Shakespeareat 7:30 p.m., Oct. 5, 7 and 8 in the Arts Building Recital Hall on the UTSA Main Campus.
The touring ensemble of five British actors represent several prestigious companies including the Royal Shakespeare Company, Shakespeare's Globe Theatre, the Old Vic Theatre, the Royal National Theatre and the Zurich Ballet.
Cast members include Jennifer Kidd, Richard Neale, Laurence Pears, Dale Rapley and Adam Smethurst. The actors play multiple roles in a production that utilizes simple costumes and minimal scenery with an emphasis on the riches of Shakespeare's language.
According to the Shakespeare's Globe Theatre website, the drama is one of the great comedy plays by Shakespeare and one of his last plays. The themes illustrated are freedom, friendship, repentance and forgiveness.
The plot begins with King Alonso of Naples and his entourage sailing home for Italy after attending his daughter's wedding in Tunis, Africa. They encounter a violent storm, or tempest. Everyone jumps overboard and is washed ashore on a strange island inhabited by the magician Prospero, who conjured up the storm.
Prospero and Miranda live in a cave on the island, which also is inhabited by Ariel, a sprite who carries out the bidding of Prospero, and the ugly, half-human Caliban. Various plots against the main characters fail, thanks to the magic of Prospero. The play ends with all the plotters repenting, and the tempest is calmed. Prospero asks the audience to free him to travel back to Naples to reclaim his life as Duke of Milan.
Actors From the London Stage visit selected American universities each year to perform and to conduct classes and workshops. This is the company's 25th visit to UTSA and San Antonio. The residency is supported by the UTSA Friends of Shakespeare, the Crittenden Shakespeare Endowment and a grant from the Russell Hill Rogers Fund for the Arts.
The group is an international touring theater organization based in London and at the University of Notre Dame. It combines the superb talents of professional actors with rare opportunities for students to work with them in the classroom. Covering a vast range of topics, AFTLS residencies have brought Shakespeare to life at UTSA since 1988.
Tickets are $18 general admission, $10 for students (with student ID), and are available at the UTSA Information Desk (University Center) on the Main Campus (cash or check). Tickets also will be available at the door (cash or check). All seats are reserved.
For more information or student group bookings, call 210-458-5358.