UTSA and Blue Star host reception in honor of 'Arte Latina: ROAR' book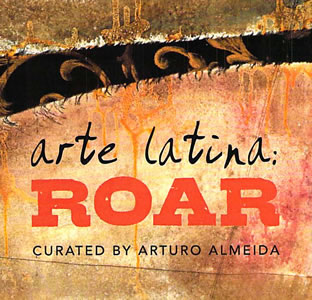 Share this Story
(Oct. 19, 2011) -- UTSA and the Blue Star Contemporary Art Center (BSCAC) will co-host a reception and catalog signing of "Arte Latina: ROAR" from 6 to 8 p.m., Wednesday, Oct. 19 at Blue Star. The event is free and open to the public. The 2008 exhibit, "Arte Latina: ROAR," was the first all-Latina exhibit at the nonprofit contemporary art center.
At the reception, there will be opening remarks by Dr. Harriett Romo and UTSA President Ricardo Romo, and curator Arturo Almeida will sign catalogs along with the artists and writers. The catalogue will be available for $45 at the reception.
The new book "Arte Latina: ROAR" commemorates the diverse work of 14 visual artists and six renowned writers.
The San Antonio artists represented in the book are Vanessa R. Centeno, Adriana Garcia, Vanessa Garcia-Briede, Frances Marie Herrera, Tess Martinez, Irma Carolina Rubio, Marta Sanchez, Elizabeth Rodriguez, Anita Valencia, Kathy Vargas, Laura Varela, Carla Veliz, Luisa Wheeler and Guillermina Zabala.
The writers featured in the book are Norma Cantu, Rosemary Catacalos, Ellen Riojas Clark, Raquel Marquez, Sonia Saldivar-Hull and Harriett Romo.
Almeida chose the exhibit title "Arte Latina: ROAR" because of the strong association with the Feminist Movement and the associated ideas of excitement, inclusion and empowerment connected with the group of works.
"With the exhibit and book, I wanted to bring to light the unique vision and indomitable spirit of the Latina artist," said Almeida. "They show a broad range of experience and talent through the mediums of painting, sculpture, photography, film, installations and the written word.
"Arte Latina: ROAR"wasunderwritten by The Tobin Endowment and also marked the first Tobin Endowment sponsorship of a Blue Star exhibit. For more information, contact Rebecca Geibel, Blue Star Contemporary Art Center marketing and program manager, at 210-227-6960.
--------------------------------
The Blue Star Contemporary Art Center is in Blue Star Arts Complex Suite 116 at Alamo and Probandt streets in the Southtown district. It is a nonprofit, non-collecting contemporary art center that advances the growth and understanding of contemporary art, artists and the curatorial process. Through exhibitions and a variety of programs, Blue Star is an active participant in the development of regional, national and international contemporary art and provides a lively forum for the visual arts dialogue.