UTSA student organizations host annual BestFest fundraiser Oct. 28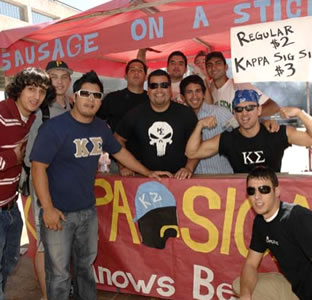 Share this Story
(Oct. 27, 2011) -- The UTSA Campus Activities Board will host the annual student organization fall fund-raising festival, BestFest, from 11 a.m. to 3 p.m., Friday, Oct. 28 at Sombrilla Plaza on the Main Campus.
The UTSA community is invited to the celebration featuring student performances, games and crafts, food, drinks and festivities. BestFest will feature music by The Pulse Electric.
The Pulse Electric started playing in April 2010, fronted by brothers Jaime Moreno and Eric Moreno. Working together in a previous post-hardcore project (Screaming At The Sky), the brothers decided to jump genres and break into the dance rock/pop scene. With track after funky track, members Mike Mangalindan, Annah Fisette and Nate Staires (Grand Archer) were picked up to complete the roster and create the mash-up of hard rock and electronic dance music that have people moving to today.
BestFest is one of the largest fundraisers for UTSA student organizations. Each organization will have a booth with games or food and drink items -- and this year, more than 70 organizations will participate.
For more information, contact the Campus Activities Board at 210-458-4772.