UTSA hosts Oct. 19 lecture by cancer health disparities expert Lovell Jones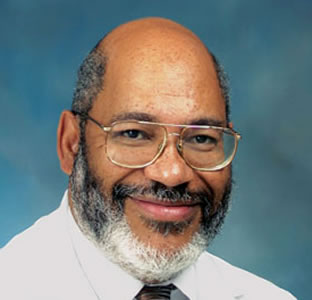 Share this Story
(Oct. 19, 2011) --UTSA and the University of Texas Health Science Center at San Antonio will host an Oct. 19 presentation by Lovell Jones, cancer health disparities expert and professor in the Department of Health Disparities Research and Department of Biochemistry and Molecular Biology at the University of Texas MD Anderson Cancer Center. He will speak on "A Biopsychosocial Approach to Addressing Health Equity" at 4 p.m., Wednesday, Oct. 19 in the Biosciences Building Loeffler Room (3.03.02) on the UTSA Main Campus.
Jones directs the Dorothy I. Height Center for Health Equity and Evaluation Research (CHEER) at the University of Texas MD Anderson Cancer Center. His presentation will center on the thesis that scientific approaches of the 21st century should be more comprehensive and involve a combination of scientific discovery, real-world applications and community service.
With a career spanning more than 35 years, Jones has extensive experience in addressing minority health issues and the health of the underserved including studying the relationship between hormones, diet and endocrine-responsive tumors. Jones' research work has focused on determining the mechanism by which natural and environmental estrogenic agents may initiate cancers in hormonally responsive tissue.
An author of more than 100 scientific articles ranging from hormonal carcinogenesis to health policy, Jones also edited "Minorities and Cancer," one of the few comprehensive textbooks on the subject. Additionally, he chaired or co-chaired numerous major events regarding the underserved and cancer including the American Cancer Society South Central U.S. Regional Hearings on Cancer and the Poor and the first national African cancer education meeting in Abuja, Nigeria. He co-authored a congressional resolution designating the third full week in April as "National Minority Cancer Awareness Week."
His research as a principal investigator has received more than $20 million in funding from the National Institutes of Health, Rockwell Foundation, Walton Family Foundation, Kellogg Foundation, American Health Foundation, Houston Endowment, ExxonMobil Foundation, Centers for Disease Control and Prevention, and the State of Texas.
A recipient of numerous accolades, Jones was awarded the Director's Award for Excellence in Health Disparities from the National Institutes of Health National Center on Minority Health and Health Disparities. He is scheduled to receive the Ruth Kirschstein Diversity in Science Award.
Jones earned his doctoral degree in zoology with emphasis in endocrinology and tumor biology from the University of California at Berkeley.
The Seminars in Translational Research series brings together investigators from basic clinical and social sciences to highlight the bidirectional and multiple stages of translating research discoveries from the laboratory bench to the bedside and ultimately the community.
The monthly seminars are jointly sponsored by the UTSA Research Centers in Minority Institutions (RCMI), the Health Science Center Institute for Integration of Medicine and Science (IIMS)/Novel Clinical and Translational Methodologies, and the joint UTSA-UT Health Science Center graduate program in biomedical engineering. The RCMI and IIMS programs are supported by the National Center for Research Resources at the National Institutes of Health.