Parent Council fundraising for UTSA Family Fund brings in more than $50,000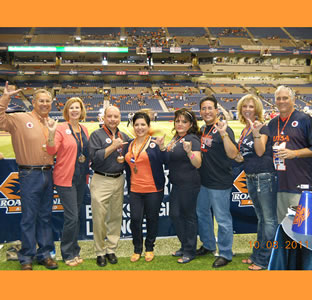 Share this Story
(Dec. 14, 2011) -- In 2009, UTSA parents embraced a new tradition to help offer exceptional opportunities to students through donations to the UTSA Family Fund.
Funds raised are awarded to programs hosted by the Office of the Vice President for Student Affairs that enrich student life and make attending UTSA comfortable, enjoyable and safe. In just two years, parent contributions have surpassed $50,000. This year, eight projects received support from parents:
The Movement: A Civil Rights and Social Justice Trip -- This five-day trip in January 2012 will include visits to New Orleans, Birmingham and Memphis to teach students about the Civil Rights Movement and the individuals who were active in advancing civil rights and social justice in their communities.
Career Closet -- Through the University Career Center, students can check out professional outfits cost-free including men's and women's suits to dress appropriately for job interviews.
21st Birthday Card -- The student organization Be A Responsible Roadrunner (BARR) will send a "Happy Birthday" message to students turning 21 with 10 tips on how to celebrate responsibly and a bonus tip to encourage a sober celebration. The card is redeemable for a free smoothie from the Campus Rec Smoothie King.
Beyond Borders -- Hosted during Roadrunner Days, this event will help educate immigrant students on their unique needs and how UTSA staff are available to support them as they become active students on campus.
Alternative Spring Break -- Students commit their spring break through service to others. Students previously have volunteered in New Orleans, Houston, Dallas and San Antonio.
Rowdy Wing Fling – For UTSA students, the event promotes awareness of the risks and responsibilities associated with alcohol use. It is the first alcohol awareness event of the year and includes free food and plenty of "edutainment."
The Status Update -- In conjunction with World AIDS Day, this expo raises awareness of HIV/AIDS and other STIs, encourages HIV testing and educates students on predisposing factors and behaviors.
Leadership Cultural Dinner -- A high-profile speaker will discuss with students issues ranging from leadership and political involvement to pop culture and the arts.
------------------------------
Projects are chosen by members of the UTSA Parent Council through a competitive grant process. Parents and family members can make a difference at UTSA through the Family Fund. If you are a parent or know of a parent that may want to help, contact Brittany Pratt at 210-458-5119, or for more information, visit the UTSA Family Fund website.