Roadrunner of the Month: Martha Wright exemplifies leadership, motivates students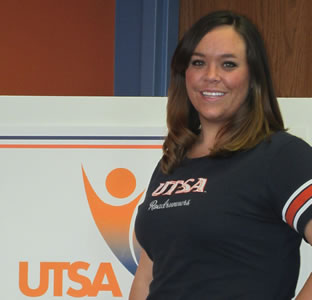 Share this Story
(Dec. 13, 2011) -- The UTSA Student Leadership Center announces Martha Wright is Roadrunner of the Month for November 2011. She was nominated by Afamia El-Nakat, research associate professor in the College of Engineering.
Wright is from Encinitas, Calif., where she graduated from La Costa Canyon High School. She is a senior studying environmental science. With her degree in hand, she hopes to continue her research on sustainable energy and clean water. Additionally, she would like to continue with her education and pursue a master's degree.
As an active member of the Texas Sustainable Energy Research Institute, a resident assistant and the secretary of the UTSA Honors Alliance, Wright is an excellent example of leadership at UTSA. She rallies students with her passion to be involved on campus and leads by example on how they can find opportunities to better themselves, their community and their future.
According to El-Nakat, "Martha is the symbol of a UTSA Roadrunner who is dedicated to her fellow students from attending athletic events to rallying students in the various alliances and organizations she is involved with. Additionally, Martha is further developing her leadership skills through starting a new student organization called Roadrunners for Renewable Resources."
"Leadership is the ability to lead, but also to take input from others," said Wright. "I cannot lead effectively if I do not consider those I am leading."
The Roadrunner of the Month award is sponsored by the Student Leadership Center to recognize outstanding UTSA student leadership contributions.
Nominees must meet these criteria to be considered for the award:
Must be a full-time UTSA undergraduate or graduate student
Must have a cumulative grade point average of 2.5 or higher at the time of nomination
Must have demonstrated excellence in leadership above and beyond typical expectations
Nominations should be for actions that positively impact the UTSA community.
Submit nominations at the UTSA Student Leadership Center website.