Easier recycling: UTSA adopts new single-stream recycling process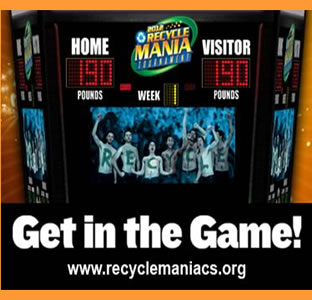 Share this Story
(Jan. 31, 2012) -- Single and proud of it... single-stream that is. Single-stream recycling is now the process used at UTSA, which means that all recyclable materials can be placed in the same recycling bin. This process makes it even easier to participate in RecycleMania and UTSA's ongoing recycling program.
For the fifth year, UTSA is participating in RecycleMania, a nationwide, 10-week competition involving colleges and universities nationwide. Running through March 31, the goal is to see which campus can collect the most recyclable materials and keep them out of landfills.
Single-stream recycling, also known as "fully commingled" or "single-sort," is a system in which all paper, plastic, metal and other containers are mixed in a collection truck, instead of being sorted and handled separately throughout the collection process. In single-stream recycling, the types of materials are separated at a recycling recovery facility.
The blue bins stationed throughout the UTSA campuses formerly were for paper only. Now they can be used for these recyclables:
Paper, newspapers
Catalogs, magazines, brochures
Aluminum cans, clean foil, bottle caps
Other empty metal food and beverage cans
Glass bottles and jars
Plastic bottles, tubs, jugs and containers
Cardboard, paperboard boxes
Printer cartridges also can be recycled at UTSA. For more information, visit the UTSA Recycling website or call 210-458-5250. Call if your area does not have a blue bin.
------------------------------
About UTSA recycling
The UTSA Office of Environmental, Health, Safety and Risk Management has managed the UTSA recycling program for seven years. The program continues to evolve to meet the needs of the growing campus community. Look for the blue recycling bins across the campuses along walkways and inside buildings; some are for paper only, others are for plastic, glass and aluminum.
During fiscal years 2008-2010, recycling bins were placed across the UTSA campuses as part of the goal to minimize waste and increase recycled materials to an average of 115 tons per quarter by 2016. In fiscal year 2010, UTSA averaged more than 113 tons of recycled material per quarter -- significant progress toward the goal.