UTSA students tour historical sites in four states to learn about The Movement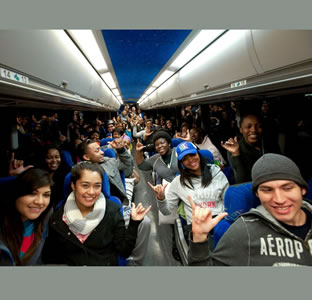 Share this Story
(Feb. 8, 2012) -- The UTSA Student Leadership Center and Inclusion and Community Engagement Center sponsored 40 students in a journey across four states to learn about the Civil Rights Movement. The program, "The Movement: An Exploration of Civil Rights," took students from San Antonio to New Orleans, Birmingham, Ala., and Memphis, Tenn., allowing them to be immersed in history.
From Jan. 10 to Jan. 14, the stops on the bus tour included the 9th Ward, the Civil Rights Institute, 16th Street Baptist Church, Kelly Ingram Park and the National Civil Rights Museum. The trip ended with students participating in the Martin Luther King Jr. March on Jan. 16 back in San Antonio.
Accompanying the visits to the historically recognized sites and nationally known museums was a curriculum created to promote awareness of social justice issues. Students learned through documentaries, reflection papers, group discussions and presentations from speakers and activists.
At the end of the class, the students discussed the impact of the tour on them and how their experience will affect their involvement at UTSA.
>> Read about the students' experiences and view their photos on Facebook.
"I used to think that obstacles and trials that we face are put in our lives for us to overcome, learn from and become a better person," said Justina Williams. "After The Movement, I feel that I cannot truly grow from a situation if I don't give back to my community after becoming a better person. I plan to devote time toward giving back and because of The Movement, I know anytime is a good time to start. Life is too short to wait around; I want to be a pioneer of change."
"More than anything this trip has helped me realize that civil rights and social justice issues aren't ideas, but a lifelong movement," said DeMarcus Lewis. "While on the trip I made a pledge to myself that I would stand up and support others in their fight within The Movement, no matter how big or small the battle."
"Words cannot describe how I feel; pictures cannot capture the growth, the change or the empowerment that I feel inside," said Charnelle Thompson. "But my actions will be a true testament of how impactful this trip was and appreciative I am of those who contributed to it. I will wait no longer -- the Movement starts now."
For more information, contact the Student Leadership Center at 210-458-7967 or the Inclusion and Community Engagement Center at 210-458-4770.