Leadership honor: UTSA student Eliana Briceno named Roadrunner of the Month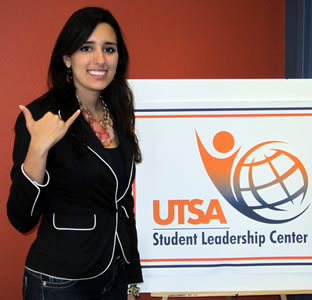 Share this Story
(March 30, 2012) -- The UTSA Student Leadership Center announces Eliana Briceno as Roadrunner of the Month for February. Briceno was nominated by Jennifer Rames, associate director of volunteer services in the UTSA Center for Inclusion and Community Engagement.
"To me, leadership is the responsibility of guiding a group of people to a common goal," said Briceno. "I believe it is very important to lead by example and to leave a legacy."
A senior studying Spanish and sociology, Briceno is from Valencia, Venezuela, where she graduated from Seven Lakes High School. After completing her bachelor's degree, she plans to attend law school and has aspirations to open her own law firm and to develop a nonprofit organization.
As the president of the student organization VOICES (Volunteer Organization Involving Community Education and Service), Briceno is an excellent example of leadership at UTSA. She has demonstrated leadership through serving as the trip leader for alternative spring break trips to Corpus Christi and Amarillo. On both trips, she and fellow Roadrunner volunteers assisted Habitat for Humanity in building homes.
"Eliana truly embodies the Roadrunner spirit," said Rames. "She is active on campus, works more than 25 hours per week, maintains a very good GPA, studies for the LSAT, and is the president of one of the largest student organizations on campus."
Briceno is active in motivating fellow students to get involved and engaged in serving the community. For example, her idea for the campus-wide program Extreme Makeover UTSA brought together more than 250 students to complete projects across campus in one day. Additionally, during her presidency with VOICES 40 new members were inducted and completed 3,700 hours of community service in fall 2011 -- both record-breaking achievements for the organization.
-------------------------------
The Roadrunner of the Month award is sponsored by the Student Leadership Center to recognize outstanding UTSA student leadership contributions. Nominees must meet these criteria:
Full-time UTSA undergraduate or graduate student
Cumulative GPA of 2.5 or higher at time of nomination
Must have demonstrated excellence in leadership above and beyond typical expectations
Nominations should be for actions that positively impact the UTSA community.
Submit nominations at the UTSA Student Leadership Center website.